Host Duplex is excited to announce that we will soon be rolling out our newest Magneto platform, Mageplex. On this platform, ecommerce stores will provide visitors with one of the fastest web experiences and easy accessibility features. Thanks to our high-performing clusters and caching technology, we guarantee improved site load times, FCP, and TTFB.
It is worth noting that Mageplex fully supports Magento Hyva themes, one of the trendiest eCommerce solutions on the market today. With more than 200,000 websites using the Magento Hyva theme worldwide, you may be wondering what all the hype surrounding Hyva themes is all about. If so, you are in luck because this article seeks to provide you with everything you need to know about this trendy theme, including its performance, benefits, and associated costs. Without further ado, let us delve straight in!
What is Magento Hyva Theme?
Initially, Magento offered a default theme, the Magento Luma theme, that became increasingly popular because of its vast customization tools, multi-store capabilities, and overall flexibility for eCommerce Stores. However, its front end was not as efficient for web stores because of the following challenges:
Complex UI components
A challenging development process.
Lengthy Javascript code and many dead codes
Very slow
These issues made it difficult for even the most skilled coders to change the theme easily.
Luckily, Willem Wigman sought innovative ways to develop new themes for eCommerce stores via Magento 2. By getting rid of KnockoutJS, Jquery, and RequireJS and using the faster and more efficient TailwindCSS and AlpineJS, he created the Hyva theme, which is the fastest Magneto template on the market right now. As such, Hyva is a Magento 2 theme that provides an efficient front-end eCommerce solution without all the unnecessarily complicated codes and cumbersome libraries. It is worth noting that the Hyva theme is not compatible with Magento 1.
Hyva Theme Performance Stats
As an eCommerce store owner, you probably know that it is essential for your store to score high ratings according to Google Core Web Vitals (CWV). This new measurement standard focuses on user experience and website performance, which correspond with Google ranking and conversion rates. Since Hyva boasts of prioritizing enhanced developer experience and improved performance, it is only fitting to put it to the test.
Recent statistics revealed that Hyva outperformed most of its alternatives by 250% based on CWV. Compared to the 19% of web stores that use the default Magento Luma theme, over 50% of Hyva stores scored high in CWV, as shown in the graph below: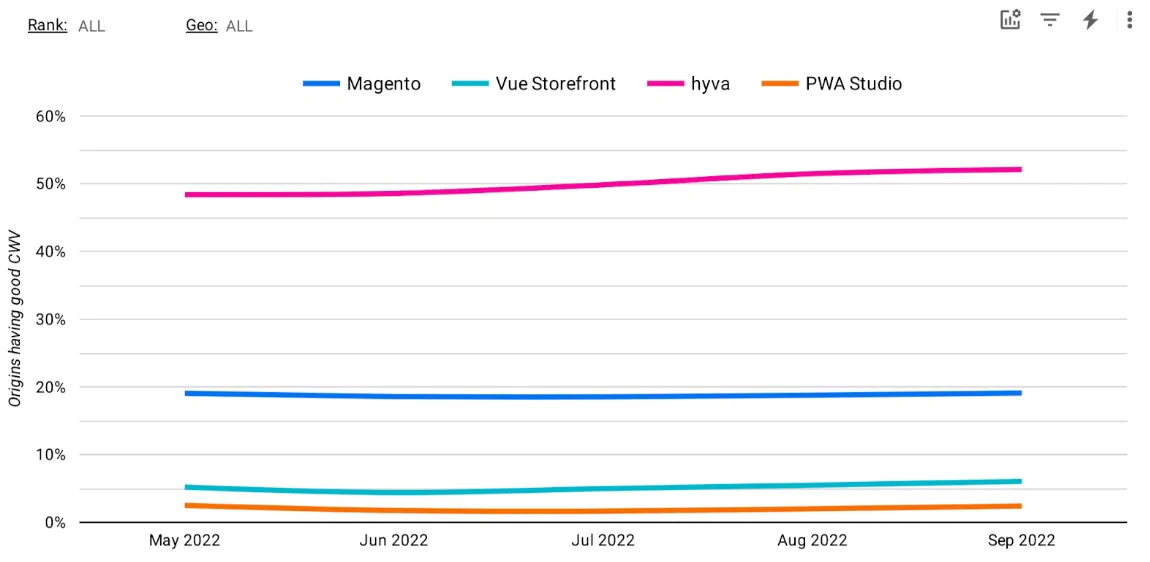 Image Source: Hyva.io
Likewise, Hyva also outperforms its alternatives when it comes to page weight and lighthouse score. This is because the theme boasts reduced complexity, making it incredibly lightweight.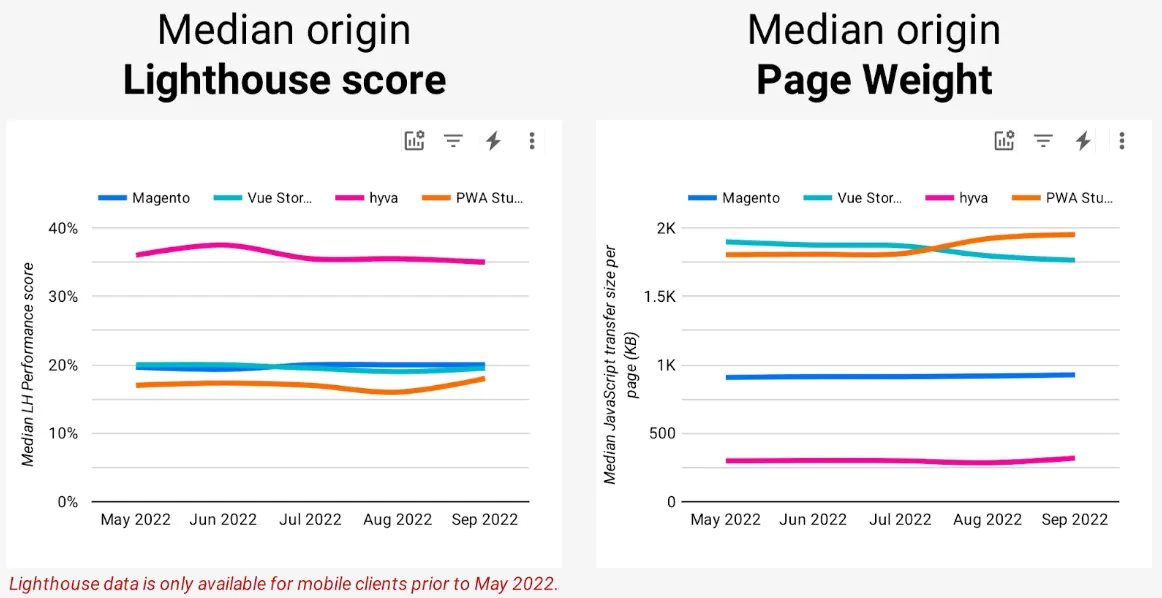 Image Source: Hyva.io
So, if you are looking for a high-performing front-end eCommerce solution for your Magento store, Hyva is an ideal option.
Replacing of Magento Luma theme with Hyva helps to get incredible 100/100 scores and pass #CoreWebVitals easier. So not to be unfounded, we put it to the test and compared the performance of Luma and Hyva. https://t.co/9ve98fLAVZ #Magento #Hyva #MagentoDevelopers #performance

— Eltrino Team ?? (@eltrinoteam) November 1, 2022
What Makes the Hyva Theme So Special Compared to the Traditional Magento Theme?
Hyva theme users can enjoy a wide range of benefits besides increased performance. Because of these benefits, more and more websites are implementing this new Magento theme. In the section below, we will discuss some advantages and disadvantages of Hyva Magento while comparing it to the traditional Magento theme.
Excellent Performance
The performance statistics discussed above show that the Magento Hyva theme offers truly remarkable performance. It is lightning-fast on mobile devices and PCs alike. Its Time to Interactive (TTI) software enables sites to load fully within 2 seconds, regardless of the device used.
This is impressive, especially compared to the 30 minutes or more than the traditional Magento theme required. Not only can Hyva theme digital store users enjoy incredible site loading speed, but also improved SEO results and positive customer experiences.
Simple Integration
It is effortless for Magento 2 users to shift from their current theme to the Magento Hyva theme. Unlike the traditional theme, Hyva installation does not require downloading the functions or rebuilding the entire system from scratch. However, if you are using Magento 1, you must start a new projecthttps://bsscommerce.com/blog/hyva-theme-cases/ on Magento 2. Luckily, with a team of qualified developers, you can easily create a plan and execute it flawlessly.
Less Time Spent in the Development Process
One of the most impressive features of the Magento Hyva theme is that it has a cleaner and more compact front end than the traditional theme. Thanks to its TailwindCSS, AlpineJS, and other innovative software technologies, Hyva developers can build a supportive community around them, where they can share ideas and get help whenever needed instead of waiting on Hyva theme experts to provide you with much-needed information.
Ease of Maintenance
It goes without saying that a tool that is easy to use is also easy to maintain. Thanks to its component-based functionality, any errors you may experience while using Hyva are easy to fix since you only have to isolate the files with the problem at that moment. Unlike the traditional Magento theme, you do not have to alter the entire framework or anything other than the problem spots.
In addition, the Hyva theme eliminates all the default front-end features of the default theme, eliminating all the delays often experienced by Luma theme users. Thus, nothing will be affected if you upgrade the CSS, Javascript, or HTML files while using the Hyva theme. Likewise, any upgrades of the Hyva theme itself also do not affect your front-end features at all.
Disadvantages of Using Hyva Theme
Although there are many benefits to using the Hyva theme, there are also some downsides. These include:
Limited Compatibility
As mentioned earlier, the Hyva theme is not compatible with Magento 1. Instead, it requires Magento 2.4 or higher, meaning you must perform an upgrade before using this theme.
Checkout
Hyva theme does not alter the checkout section of any website. Instead, it leaves the store owner or developer to decide whether to proceed with Magento's Luma theme standard option or the Hyva checkout solution. Users of the traditional Magento theme can only use the standard Luma theme checkout feature.
Cost of License
There is a one-off installation cost of $1000 for using Hyva themes. However, this payment includes unlimited upgrades, store views, domains, access to third-party compatible modes, community and support access via the private stack, and many more. It is worth noting that this cost often falls on the merchant.
Lack of Third-Party Extensions
While some third-party extensions require a developer to make them compatible with Hyva, this does not apply to all extensions. Since most Magento themes use the same technology as Luma, they are incompatible with the Hyva theme. Note that this only applies to the storefront output. External integration, admin panel output and backend codes remain the same.
10 Top Examples of Websites Using Hyva Theme
As mentioned earlier, more and more websites are using the Hyva theme. Top examples of such websites include:
1. SDS London
As a premium architectural supplies provider, SDS London provides their customers with a vast range of products. The Hyva theme optimized its front-end performance to allow customers to load the site in less than two seconds.
2. Case24
This manufacturer of custom phone cases required a fast-performing website that allows users to quickly navigate through the site and upload a graphic or photo via their case design tool. Upon launching their Hyva website, the site's GTMetrix improved from D to A.
3. Sunliner
This qualified parasols retainer specialist uses the Hyva theme to efficiently showcase their wide library of 6000 sun protection solutions on their website. As a result, they scored 100 points during their PageSpeed performance test.
4. Citizen Watch
If you are familiar with high-quality watches, you have probably heard of Citizen Watch. Although it has a complicated website structure, Citizen Watch uses the Hyva theme to enhance the front-end performance and overall user experience.
5. Bedre Naetter
Bedre Naetter is a well-known supplier and manufacturer of mattresses, beddings, duvets, pillows, and beds. It has an eCommerce store allowing customers to look through their catalogue and buy products at competitive prices.
Due to their complex web design, numerous widgets, and marketing campaigns, site performance began to slow down. However, upon using the Hyva theme, the site improved its performance, and it now works efficiently.
6. Bella Baby
Although Bella Baby is a popular supplier of baby products, it has now become synonymous with fast site loading performance, thanks to its use of the Hyva theme. Customers can now browse through their vast product selection from reputable baby brands.
7. Dutch Label Shop
Dutch Label Shop makes it possible to make labels of all sizes, including those for personal gifts, wholesale orders, web stores, and many more. With a PageSpeed performance score of 91, customers are sure of fast performance and exceptional user experience.
8. Muff Haushalt
If you are looking for anything kitchen-related, you will likely get it from Muff Haushalt. This company's website comprises hundreds of top-quality, practical, and visually appealing products from several well-known brands. Thanks to the Hyva theme, it only takes the average customer 0.3 seconds to load the site.
9. Haibu
Based in the Netherlands, Haibu is a famous hairdressing products supplier that focuses on selling high-quality hair products from well-known brands worldwide. Its website, which uses the Hyva theme, has a PageSpeed performance score of 96 points.
10. Butterfly
Butterfly is a reputable supplier of table tennis equipment and clothing worldwide. Given the main objective for their website was loading speed, they opted for the Hyva theme. Their site boasts a record 0.6 seconds when loading their site.
Bottom Line
The Hyva theme has revolutionized front-end eCommerce solutions since it first made its debut on the market. Host Duplex is glad to support the Hyva theme on its innovative platform, MagePlex. Enjoy record-breaking site loading performance, top-notch security, cloud reliability, and management solutions through this platform. In fact, our customers have reported a 30% increase in revenue, customer experience, and repeat customers since using this platform. Contact us today for more information on MagePlex and the Hyva theme.
Sources