Are you tired of worrying about losing your WordPress website data due to unexpected crashes or security breaches?
Approximately 30,000 websites are hacked daily worldwide, many of which use WordPress as their platform. A robust backup plugin can save your WordPress site from data loss and keep your business running smoothly. But with so many options out there, how do you know which one is the best fit?
Fear not! We've got you covered with this comprehensive guide to the best WordPress backup plugins of 2023. We'll explore top WordPress backup plugins, free and premium options, essential features, comparisons, and more in order for you to make an informed decision when choosing the ideal plugin. Let's dive into securing your WordPress website with confidence.
Why Use a WordPress Backup Plugin?
A good WordPress backup plugin offers peace of mind by safeguarding your website's data. Here's why using a dedicated backup plugin is essential:
Protection Against Website Crashes And Hackers
Using a dependable WordPress backup plugin ensures that even if the worst happens – such as losing your entire site due to an unexpected crash or attack – you'll have a secure copy of all your files and databases stored safely offsite.
Automated backups
Manual backups can be time-consuming and prone to human error. Backup plugins automate this process, ensuring you never miss a backup.
Schedule backups
Set the frequency of backups according to your needs. Most backup plugins offer daily, weekly, or even real-time backups.
Offsite storage
A reliable backup plugin stores your data in secure, offsite locations like Google Drive or Amazon S3, reducing the risk of data loss.
Easy restoration
With a good backup plugin, you can quickly and effortlessly restore your site to a previous version in case of an emergency.
Saving Time And Money
Implementing a reliable WordPress backup plugin not only provides peace of mind for website owners and administrators but also saves substantial time and money in the long run.
Ensuring consistent, automated backups eliminates the need to perform manual backups, freeing up valuable resources that can be better utilized elsewhere.
What Makes A Good WordPress Backup Plugin?
A good backup plugin should have essential features that ensure your website is adequately protected. When selecting the best WordPress backup plugin, consider the following features:
Automatic backups
Look for a plugin that performs automatic backups on a set schedule.
Incremental backups
Incremental backups save time and server resources by only backing up changes made since the last backup.
Cloud storage integration
Choose a plugin that supports multiple cloud storage options like Google Drive, Dropbox, and Amazon S3.
Easy restore options
A user-friendly interface makes restoring your site a breeze.
Security features
Encryption and other security measures keep your backups safe from unauthorized access.
Best WordPress Backup Plugins Listed
UpdraftPlus
BackWPup
WPvivid
Duplicator
BackUpWordPress
BlogVault
Jetpack Backups
BackupBuddy
WP Time Capsule
WP Database Backup
WordPress Backup Plugins Compared
To help you choose the right backup plugin for your needs, we've created a comparison table of key features, pricing, and ratings for the top 10 plugins:
| | | | | | |
| --- | --- | --- | --- | --- | --- |
| Plugin | Automatic Backups | Incremental Backups | Cloud Storage Support | Easy Restoration | Pricing |
| UpdraftPlus | Yes | Yes (Premium) | Yes | Yes | Free / Premium |
| BackWPup | Yes | No | Yes | Yes | Free / Premium |
| WPvivid Backup Plugin | Yes | Yes | Yes | Yes | Free / Premium |
| Duplicator | No | Yes (Premium) | Yes | Yes | Free / Premium |
| BackUpWordPress | Yes | No | No | Yes | Free |
| BlogVault | Yes | Yes | Yes | Yes | Premium |
| VaultPress (Jetpack) | Yes | Yes | Yes | Yes | Premium |
| BackupBuddy | Yes | No | Yes | Yes | Premium |
| WP Time Capsule | Yes | Yes | Yes | Yes | Premium |
| WP Database Backup Pro | Yes | No | Yes | Yes | Premium |
Backup plugins compared
Top Free WordPress Backup Plugins
UpdraftPlus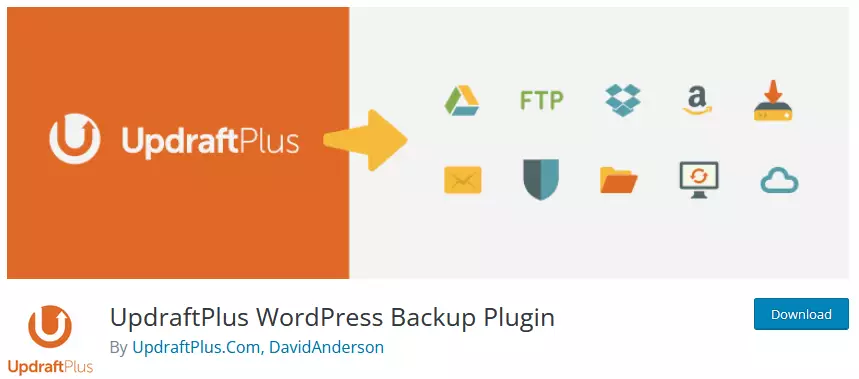 UpdraftPlus is the most popular free WordPress backup plugin, with over 3 million active installations. It simplifies backups and restoration, making it an ideal solution for website owners looking for a full-service WordPress backup plugin.
Features
Easy backup and restoration with a single click
Scheduled and on-demand backups
Supports multiple cloud storage services such as Dropbox, Google Drive, Amazon S3, and more
Option to choose which files to backup
Direct restoration of backups from the WordPress admin panel
Premium version available with additional features
Pros
Most popular free WordPress backup plugin, with over 2 million websites using it
Comprehensive backup solution with multiple storage options
Simple and intuitive interface for easy backup and restoration
Incremental backups and multisite support available with the premium version
Cons
Limited features in the free version
Pricing
UpdraftPlus offers a free version with essential features and a premium version called UpdraftPremium starting from $70/year. Pricing is valid as of May 17, 2023.
The premium version includes add-ons for website migration or cloning, database search and replace multisite support, and priority support.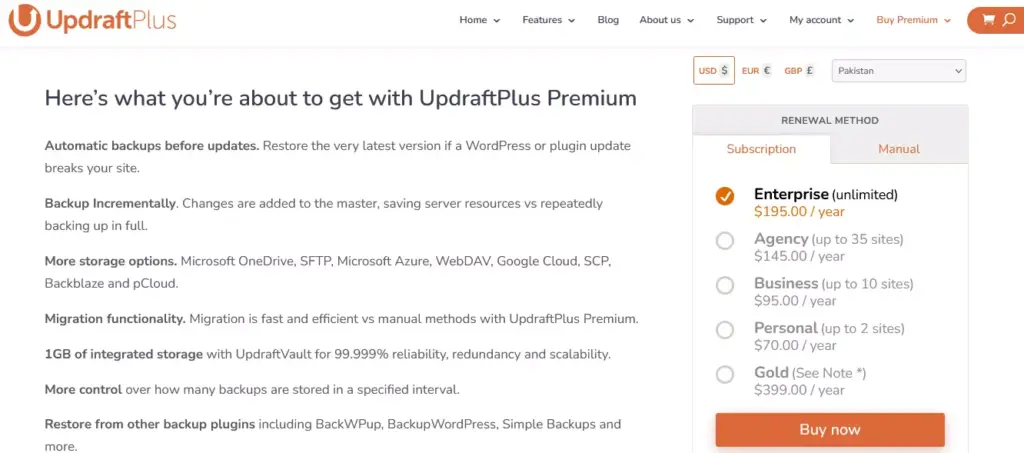 Review
UpdraftPlus is a highly-rated and trusted backup plugin with an average rating of 4.8 out of 5 stars.
Users appreciate its ease of use, comprehensive features, and reliable performance. The plugin's compatibility with multiple cloud storage services makes it a flexible choice for WordPress users. With its popularity and consistent updates, UpdraftPlus remains a solid option for securing your WordPress site.
BackWPup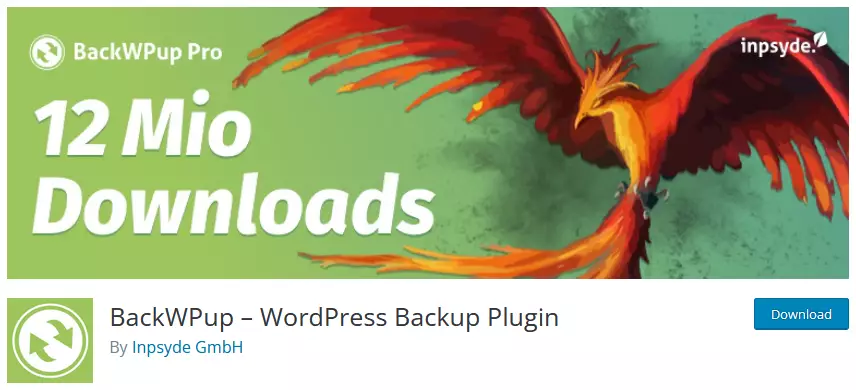 BackWPup is a user-friendly WordPress backup plugin that offers complete backups of your site for free. With over 700,000 websites using the plugin, it has earned a reputation for reliability and ease of use. BackWPup supports storage on various platforms, including cloud services like Dropbox, Amazon S3, and Rackspace, as well as FTP, email, and local storage on your computer.
Features
Simple and easy-to-use interface
Supports manual and scheduled backups
Seamless integration with various cloud services
Offers easy website migration
Compatible with multisite networks
Pros
Used by over 700,000 websites, proving its popularity and trustworthiness
Provides separate scheduling options for database and file backups
Smooth integration with multiple cloud storage services
Supports multisite networks
Cons
Automated backups are not available in the free version
Cloud backups are limited to the Pro version only
Pricing
BackWPup is available for free on the WordPress repository, while the premium version starts at $69/year. The premium version offers additional features and priority support.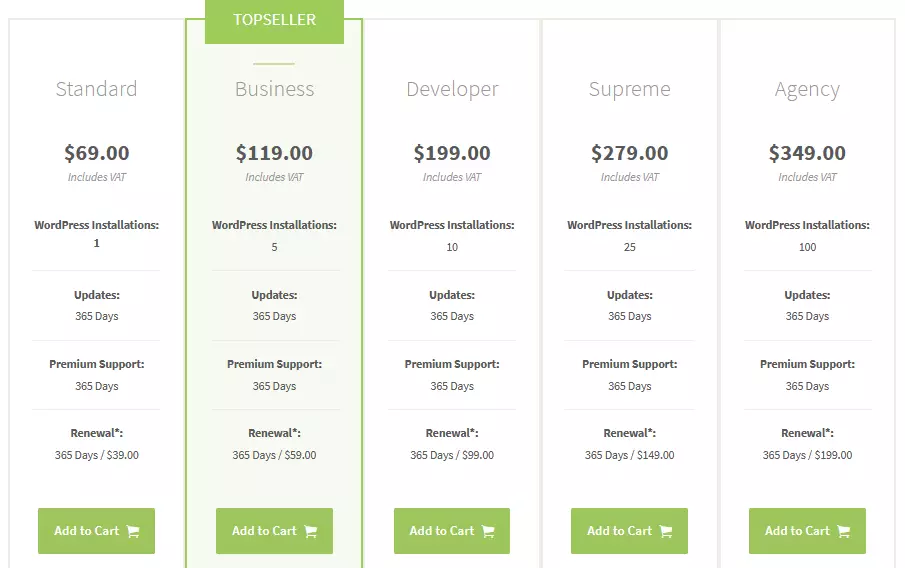 Review
BackWPup is an excellent alternative to other backup plugins with a rating of 4.4 out of 5 stars, with a strong user base and positive feedback.
The premium version adds more powerful features, including easy and quick website restoration from the backend with a standalone app.
WPvivid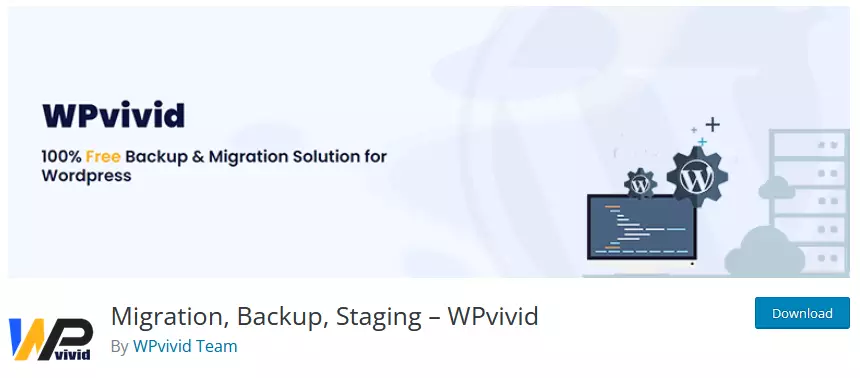 WPvivid Backup Plugin is a versatile WordPress backup solution offering a range of features, including backup, migration, and staging. It integrates additional functions like unused images cleaner and database snapshots, making it a comprehensive backup and migration tool. With both free and premium versions available, WPvivid is suitable for various users with different needs.
Features
Backup, migration, and staging capabilities
Scheduled automatic backups
Website migration support
Create staging environments for safe testing
Incremental backups and multisite network backup support
Unused images cleaner and database snapshots
Pros
Scheduled automatic backups simplify the backup process
Supports website migration, making it easy to move your site to a new host or domain
Allows you to create a staging environment for testing changes safely
Incremental backups ensure efficient and up-to-date backups
Compatible with multisite networks
Cons
Real-time backups are not supported
Pricing
WPvivid is free, but it also offers the premium version with a 14-day free trial for new users. WPvivid Backup Pro prices start from $29/year.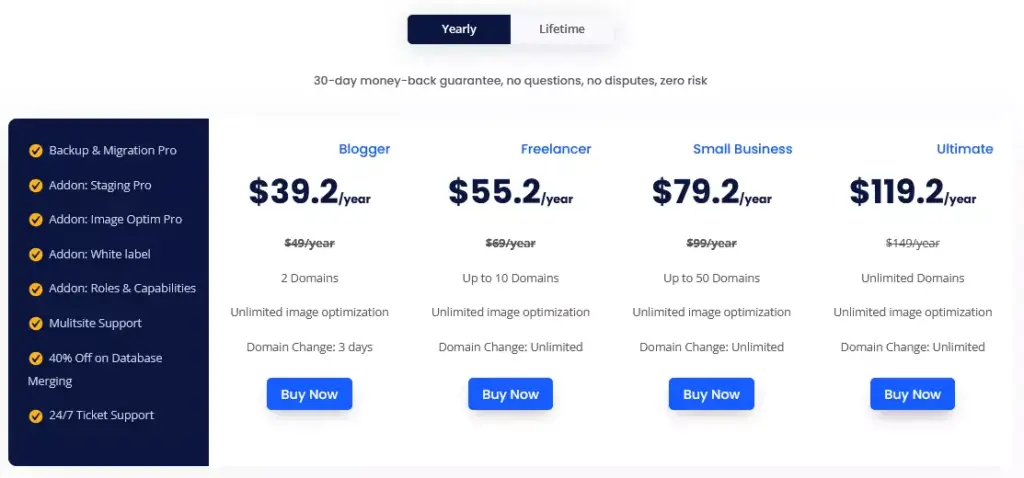 Review
With an average rating of 4.9 out of 5 stars, WPvivid Backup Plugin has earned a reputation as a reliable and comprehensive backup and migration solution for WordPress users. Its wide range of features, such as automatic backups, website migration support, and staging environment creation, makes it a popular choice for users seeking a versatile and efficient backup plugin.
The premium version offers even more advanced features and customization options for those with more demanding backup and migration needs.
Duplicator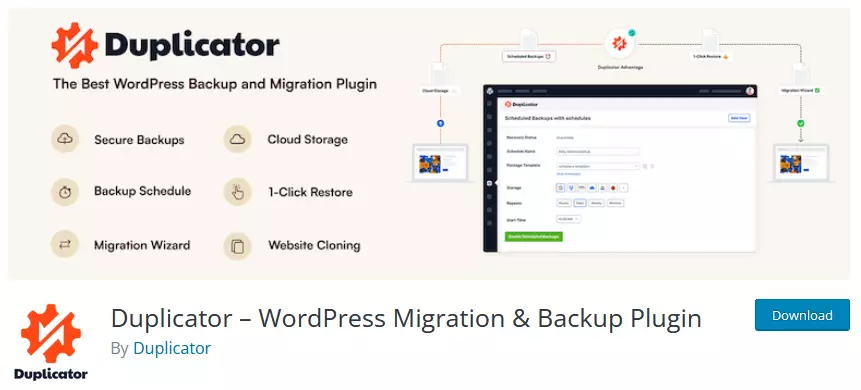 Duplicator is a widely-used WordPress plugin with over 30 million downloads, offering users the ability to migrate, copy, move, or clone their websites from one location to another. It also functions as a simple backup utility. This plugin handles standard WordPress migration and backups, as well as zero downtime migrations, making it an essential tool for many WordPress users.
Features
Move, migrate, or clone a WordPress site between domains or hosts with zero downtime
Pull down a live site to localhost for development
Transfer a WordPress site from one host to another
Manually backup a WordPress site or parts of a site
Duplicate a live site to a staging area or vice versa
Bundle up an entire WordPress site for easy reuse or distribution
Perform a full WordPress migration without dealing with complicated import/export SQL scripts
Pros
Offers a basic free version for users to try before purchasing
Combines duplication, migration, and backup functionalities
Provides simple controls for backup and restoration
Supports scheduled and cloud backups
Compatible with WordPress Multisite
Cons
Some important features are locked behind the premium version
Pricing
Duplicator has a free version available, and the premium options start at $49.50/year.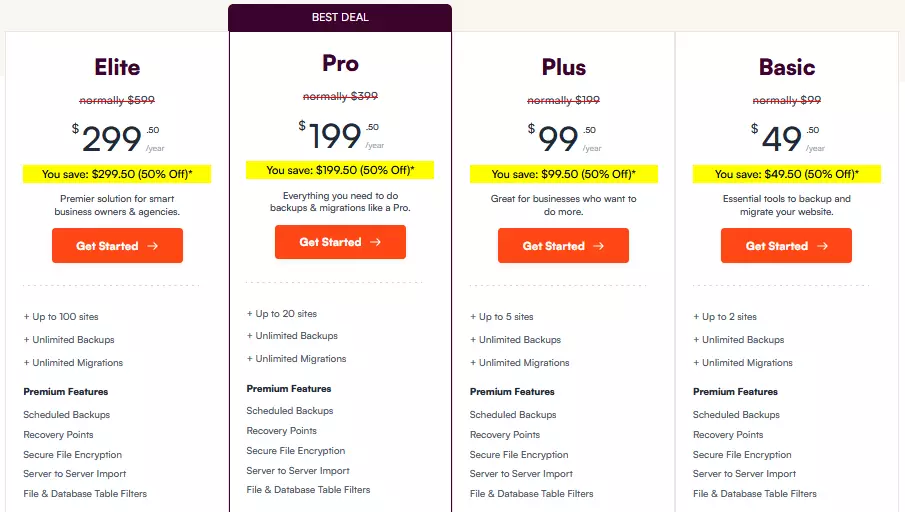 Review
With an average rating of 4.9 out of 5 stars, Duplicator is a popular and efficient plugin for WordPress users who need to migrate, backup, or clone their websites. The plugin offers a wide range of features, including zero downtime migrations, local development, and site bundling for easy distribution.
The premium version, Duplicator Pro, adds even more valuable features such as scheduled backups, cloud storage, and support for larger websites and databases. Overall, Duplicator is a comprehensive solution for users who require an all-in-one plugin for their backup and migration needs.
BackUpWordPress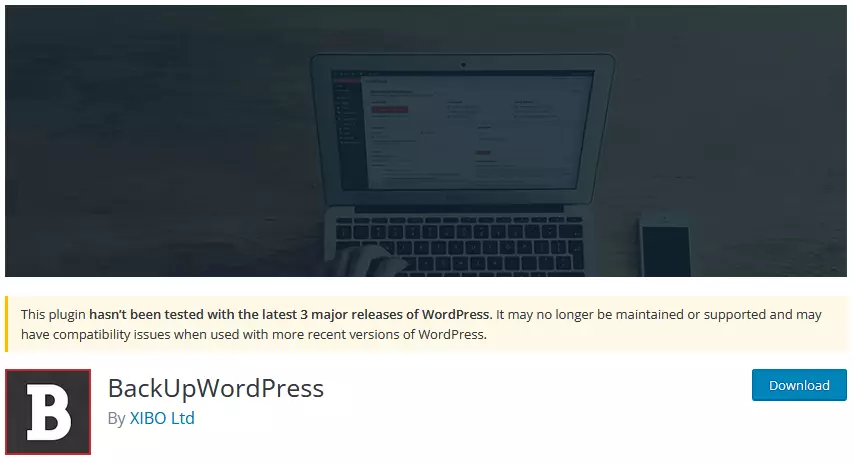 BackupWordPress is a user-friendly backup plugin that requires no setup or configurations. It is designed to back up your entire site, including your database and all your files, on a schedule that suits your needs. The plugin is compatible with both Linux and Windows servers and offers multiple options to manage and store your backups.
Features
Extremely simple to use with no setup required
Works in low memory, "shared host" environments
Manage multiple schedules for backups
Option to have each backup file emailed to you
Exclude files and folders from your backups
Compatible with Linux & Windows servers
Translations available in multiple languages
Pros
Easy to use and lightweight
Low server resource usage
Compatible with both Linux and Windows servers
Cons
No cloud storage support in the free version
Pricing
BackupWordPress is available for free.
Review
With an average rating of 4.7 out of 5 stars and over 100,000 active installations, BackUpWordPress is perfect for users who want a simple, easy-to-use backup solution without the bells and whistles. However, the lack of cloud storage support in the free version may be a dealbreaker for some.
Top Premium WordPress Backup Plugins
BlogVault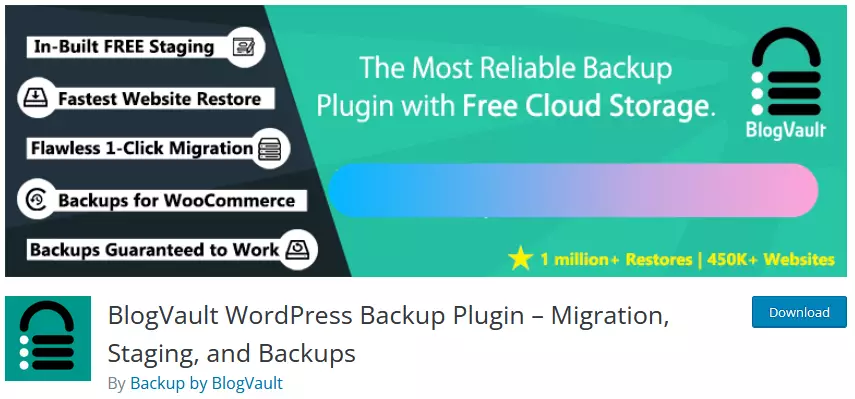 BlogVault is a reliable incremental WordPress backup plugin that offers free cloud storage and a complimentary staging environment. Trusted by over 450,000 WordPress websites, BlogVault is known for its ease of use, security, and speed. It is an ideal choice for developers and agencies, providing a comprehensive set of tools for maintaining and managing multiple WordPress websites.
Features
Incremental backups to minimize server load
100% successful website restore rate
Free offsite storage and 90 days archive
One-click staging and migrations
Real-time backups for WooCommerce stores
Manage multiple websites from a single dashboard
White-label solution and client reporting
Pros
Easy backup and restoration of websites
Supports multisite networks and cloud backups
Offers website staging and migration
Monitors websites and alerts for issues
Incremental technology for optimized performance
Cons
No partial backup option
Cloud-only, no local backup support
Pricing
Premium BlogVault plans starts from $89/year.
A 7-day free trial is available to explore the full range of BlogVault features without any commitment or credit card.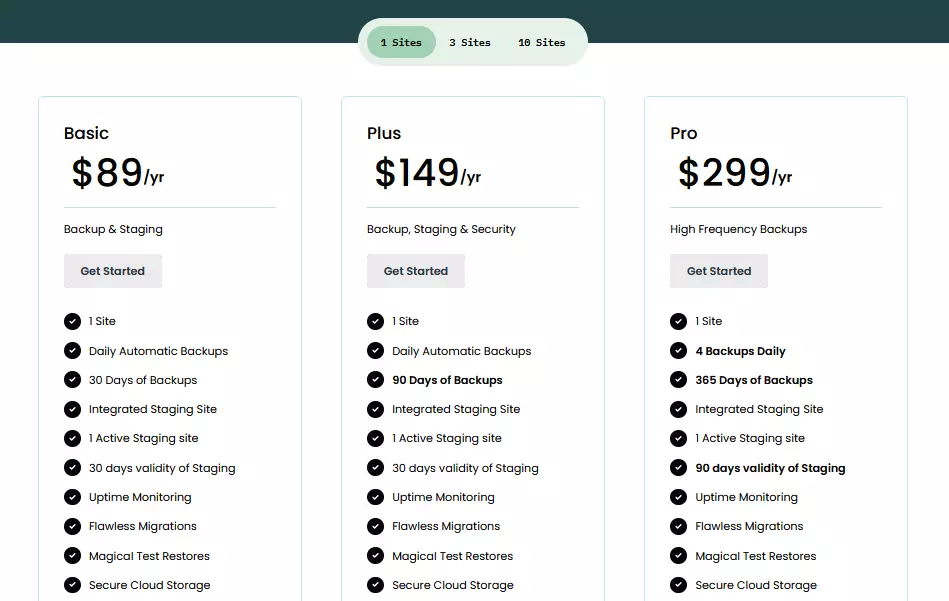 Review
With an average rating of 4.3 out of 5 stars and over 100,000 active installations, BlogVault is a popular choice for users who want a secure and efficient backup solution.
Jetpack Backups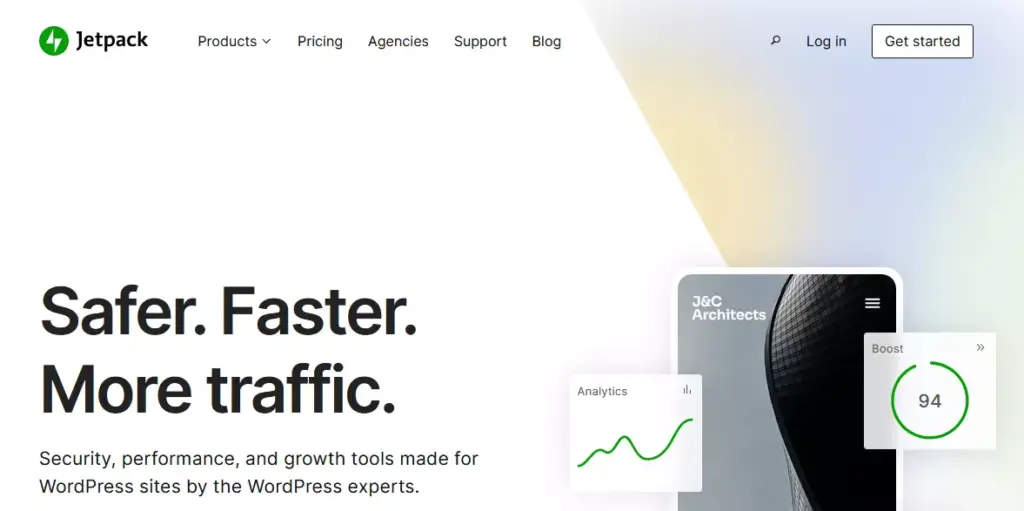 Jetpack Backups is a real-time WordPress backup plugin developed by Automattic, the same team behind WordPress. Designed to save your site changes automatically, Jetpack Backup ensures that you can quickly restore the most recent version of your site if it crashes. With support for WooCommerce stores and an easy-to-use mobile app, this plugin offers a comprehensive and user-friendly backup solution.
Features
One-click restores
Restore capabilities even when your site is offline
Automated daily and real-time backups
Unlimited backup archive
Restore on desktop or through its mobile app
Supports WooCommerce customer and order data
Multiple storage options on offsite servers
Pros
Scheduled automatic backups
Quick restore functionality
Real-time backup support
Responsive customer support
Comes with additional WordPress features
Cons
Most features only available in the paid plan
Pricing
Jetpack Backup pricing starts at $3.95 per month.
A 7-day money-back guarantee is available for monthly plans.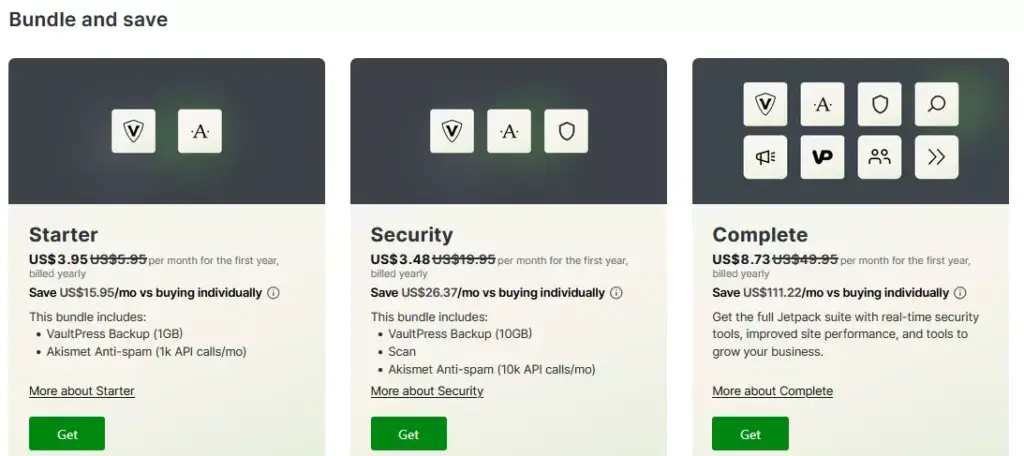 Review
Jetpack Backup is a solid choice for those who value the backing of Automattic and the integration with the Jetpack suite of tools. However, the lack of a free version and the reliance on a Jetpack subscription may be drawbacks for some users.
BackupBuddy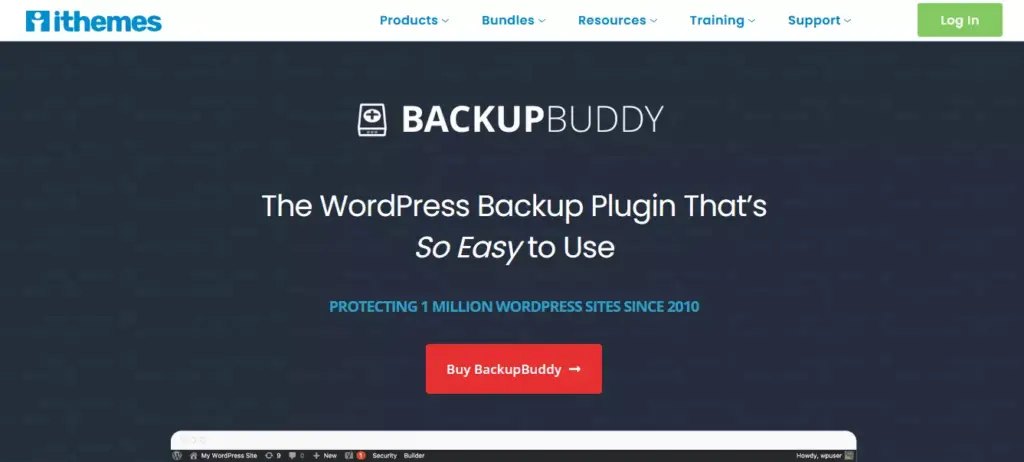 BackupBuddy is a WordPress backup plugin created in 2010 to address the need for a reliable backup solution. Designed to take complete backups of your WordPress site, including all files and assets, BackupBuddy provides scheduled automated backups and easy restoration from a user-friendly dashboard.
Features
On-demand, complete, and partial backups
Scheduled automated backups
One-click automatic restore
Offsite backups available with Stash Live
Integrated with cloud services
Incremental backups available with Stash Live
Pros
Full website backups, including files and media
Simple restoration process
Supports remote storage for backups
Email notification features
Independent dashboard with iThemes Sync
Cons
No free version
Premium version is expensive
Backups stored on-site server by default
Offsite backup storage is metered
Restore for large sites may be difficult and prone to failures
External dashboard doesn't work as intended
Pricing
BackupBuddy pricing starts at $99/year.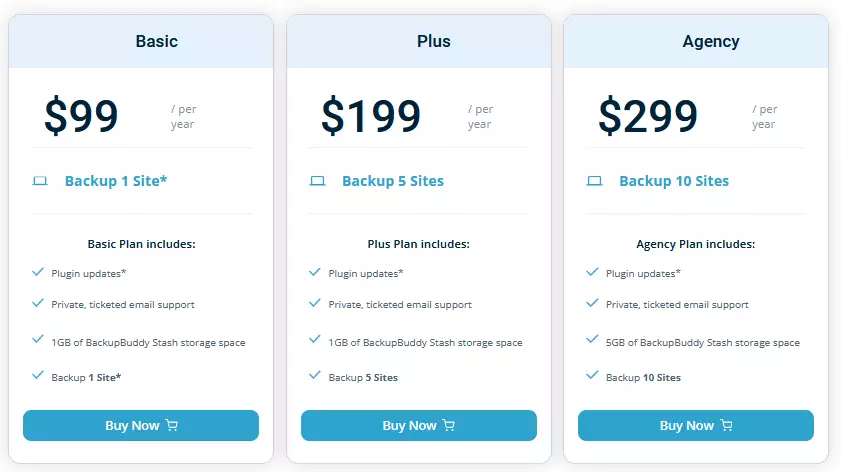 Review
While BackupBuddy has been a long-standing backup plugin for WordPress, it has faced challenges in recent years due to a lack of updates and evolution. The plugin offers on-demand and scheduled backups, but issues have been reported with large site restores and offsite storage using Stash Live.
The plugin's default storage on the site server can consume a significant amount of resources. Although BackupBuddy offers an independent dashboard, iThemes Sync, it doesn't always function as expected. The recommended backup schedule may not be suitable for all users, and the plugin's pricing is considered expensive compared to other alternatives.
WP Time Capsule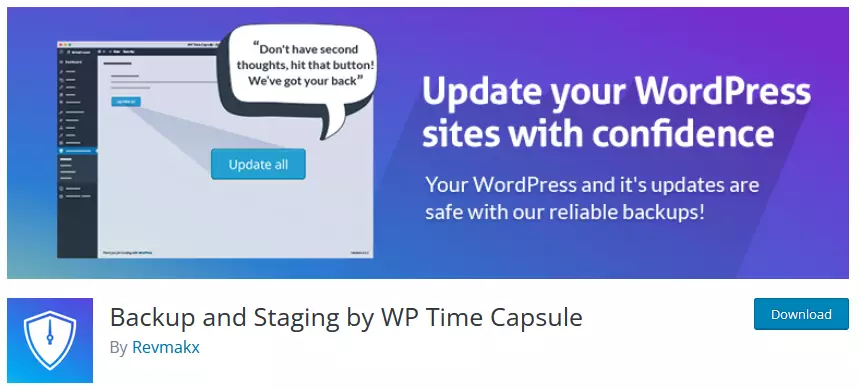 WP Time Capsule is a WordPress backup plugin designed to bring peace of mind and streamline the update process. This plugin uses cloud apps' native file versioning systems to detect changes and only back up changed files and database entries, ensuring efficient use of storage space and server resources.
Features
Scheduled automatic backups
Incremental and real-time backups
Integration with cloud services
One-click restore
Integrated staging
Activity log
Auto-updates
Encrypted database backups and GDPR compatibility
Pros
Option to encrypt database backups
Calendar view of backups for easy navigation
Efficient storage with incremental backups
Cons
Backups may take a long time to complete
Restores may not be quick or effective
Limited offsite storage options
Pricing
WP Time Capsule offers a 30-day free trial starting from a $49/year subscription.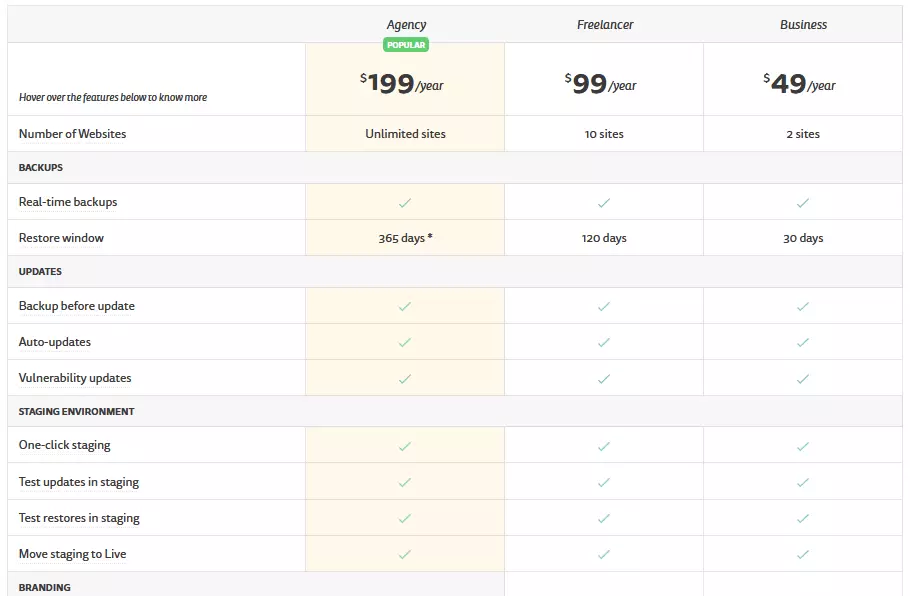 Review
WP Time Capsule is a popular backup plugin with a unique calendar view interface, allowing users to quickly locate and restore backups from specific dates. However, the plugin's backup process can be slow, taking hours to complete in some cases, which raises concerns about its performance on larger sites.
WP Database Backup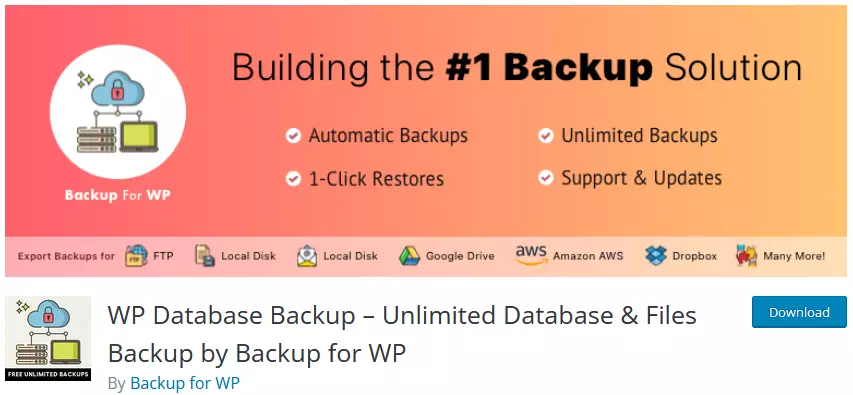 WP Database Backup is a reliable WordPress plugin for backup, designed to simplify the process of creating, restoring, and managing database backups for WordPress websites. With a range of features, including automated backups, cloud storage integration, and an easy-to-use interface, WP Database Backup helps protect your website data while offering flexibility and convenience.
Features
Create database backups easily with a single click
Schedule automated backups
Download backup files directly from the WordPress dashboard
Store backups on multiple destinations, such as Dropbox, Google Drive, Amazon S3, FTP, and email
Restore database backups with a single click
Exclude specific tables from backups
Sort and search backup lists
Save and send backup files in ZIP format
Pros
Supports scheduled and automatic backups
Allows storage of backup files in the cloud
Fast backup and restore process
Easy to use, even for beginners
Cons
Does not take complete backups in the free version
Most features are only available in the premium version
Pricing
WP Database Backup offers a free version with limited features. The premium version, WP All Backup, starts at $39.

Review
WP Database Backup is a comprehensive backup plugin with an extensive list of features, making it an excellent option for users on a budget. With over 50,000 active installations and an impressive average rating of 4.5 out of 5 stars, WP Database Backup has proven to be a popular and reliable choice among WordPress users.
Despite its limitations in the free version, the plugin remains an attractive option for users who need a straightforward and reliable backup solution.
How To Choose The Best WordPress Backup Plugin
To choose the best WordPress backup plugin, consider your backup needs, evaluate features and pricing, read user reviews and ratings, consider customer support, and check compatibility with your WordPress version.
Identify Your Backup Needs
Before choosing a WordPress backup plugin, you must identify the specific backup needs of your website. Consider the size and complexity of your site, as well as the frequency and level of changes made.
Another key factor is how quickly you will need access to those backups in case of an emergency. If downtime could cause major financial losses or damage to your reputation, real-time backups may be necessary for quick restoration.
Evaluate Features And Pricing
When choosing the best WordPress backup plugin, consider both the features and pricing of each option. While some plugins may offer a free version, others charge a fee for additional features such as automated backups or cloud storage options.
For example, BackupBuddy offers several premium options such as real-time backups and remote storage options but at a higher cost than some other plugins like WPvivid which provides similar functionalities in their free version.
Read User Reviews And Ratings
Before choosing a WordPress backup plugin, you should check user reviews and ratings. These reviews can give you an idea of how reliable and easy-to-use the plugins are.
You can also learn about any issues users may have experienced with customer support or compatibility with certain versions of WordPress.
For example, UpdraftPlus has over 3 million active installations and is highly rated by its users for its ease of use and reliability. On the other hand, some users have reported issues with BackupBuddy's customer support in resolving technical problems.
Consider Customer Support
In case you encounter any issues with the backup process, you want to be sure that there's someone available to offer assistance and resolve the issue promptly, that is why considering customer support before choosing a backup plugin is vital.
One example of a plugin with excellent customer support is BlogVault. The developer provides users with 24/7 access to their dedicated team of experts who are available around-the-clock to help troubleshoot and ensure everything runs smoothly.
Similarly, UpdraftPlus offers premium support options for those who purchase their paid plans so that anyone can get immediate assistance when needed.
Check Compatibility With Your WordPress Version
Make sure that the WordPress backup plugin you choose is compatible with your website's version of WordPress. Failure to do so could lead to issues and complications during the backup process, potentially damaging your site or causing data loss.
Checking compatibility can be done by looking at the compatibility information provided on the plugin's page in WordPress.org or checking the developer's website.
For example, UpdraftPlus is compatible with all current versions of WordPress and many older ones too, making it a reliable choice for those wanting peace of mind when backing up their site.
On the other hand, Backup Guard only supports sites running PHP 5.6 or higher and requires a minimum of WordPress 4.1 to function correctly.
How to Backup WordPress site with Plugin?
Following is a step-by-step guide for installing and configuring a backup plugin for your WordPress website:
Go to your WordPress dashboard, navigate to the "Plugins" section, and click on "Add New."

Search for the backup plugin of your choice.

Click on "Install Now" and then "Activate" once the installation is complete.

Locate the plugin's settings page in your WordPress dashboard, usually under the "Settings" or "Tools" menu.

Configure the plugin according to your preferences, such as setting up automatic backups, scheduling, and choosing a cloud storage provider.
Save your settings and perform a test backup to ensure everything is working correctly.
Conclusion
So there you have it – our comprehensive guide to the best WordPress backup plugins of 2023. We hope this information empowers you to make an informed decision and choose the right backup plugin for your unique needs. Remember, investing in a reliable backup solution is not only about protecting your website but also about ensuring your peace of mind.
By now, you should have a clear understanding of the importance of having a reliable backup plugin for your WordPress site. With the right plugin in place, you can rest easy knowing that your hard work and valuable data are secure – even in the face of server crashes, cyberattacks, or other unexpected events.
Don't wait until it's too late. Take action today and safeguard your online presence with a top-notch WordPress backup plugin.
FAQs
Does my hosting provider offer WordPress backup protection?
Hosting providers should always provide backup protection. Host Duplex includes backup protection on nearly every plan it offers. If you are looking for on-site and off-site backup protection, email sales@hostduplex.com, and someone will help configure that for you immediately.
How often should I backup my site with a plugin?
It's recommended to backup your site at least once a week, but this also depends on how frequently you add new content or update your site.
Can I use multiple backup plugins simultaneously?
While it's technically possible, using multiple backup plugins can lead to conflicts and consume server resources. It's better to choose one reliable plugin that meets all your needs.
Do I need to purchase a premium backup plugin?
No, there are several free backup plugins that offer reliable features. However, premium plugins may offer additional features that suit your needs better.
How do I restore my website from a backup?
The process varies depending on the backup plugin you use. Most plugins have a built-in restoration feature, allowing you to restore your website directly from the plugin's settings in your WordPress dashboard.
Can I restore my site if I don't have a backup plugin installed?
Yes, you can use manual backups or your web host's automatic backups. But having a dedicated backup plugin simplifies the process and offers more control over the restoration process.
What happens when my storage limit is reached?
Most plugins allow you to connect with cloud storage services like Google Drive or Dropbox. You can also choose other remote storage options offered by the plugin.
Are incremental backups important?
Yes, incremental backups only save the changes made since the last backup. This saves time and disk space and reduces server resources needed for backups.
Can I schedule automatic database backups?
Yes, most plugins allow you to set up scheduled database backups at specified intervals.
Will my backup files be encrypted for security purposes?
Some plugins offer encryption options to ensure that your data is safe during transmission and storage.