Are you struggling to improve your website's SEO performance due to subpar hosting solutions, or maybe you're just starting in the SEO realm and need a web host to give your site a competitive edge?
To rank higher on Google and other search engines, you need a reliable, fast web hosting service. Web hosting forms the foundation of your website and influences its speed, security, performance, and user experience. Choosing the wrong host can damage your SEO efforts, resulting in lost traffic and conversions.
But with so many options available, all claiming to offer the best features and support, how do you find the best SEO web hosting in 2023? In this post, we'll review what goes into quality web hosting for SEO. Then, we'll share the ten best hosts by analyzing their features, uptime, pros, cons, ratings, and pricing plans. Plus, we'll guide you on selecting the best SEO web hosting for your website.
Understanding SEO Web Hosting
SEO web hosting is specifically optimized for search engine rankings and can impact a website's SEO performance. However, it's important to understand what SEO web hosting is and how hosting affects SEO. Let's take a closer look.
What Is SEO Web Hosting?
SEO web hosting is a specialized web hosting service designed to help boost your website's search engine rankings. It combines essential web hosting features with unique SEO-focused tools and practices, ensuring your site has the best online presence.
In addition to optimal server performance, most good SEO web hosts provide multiple C-Class IP addresses for their client's websites. This feature allows you to host different sections of your website on various IPs, thus avoiding any penalties from search engines that might assume you are spamming or trying to manipulate the system.
How Hosting Affects SEO?
One essential aspect of achieving a high rank in search engines is choosing the right hosting provider. Hosting can impact SEO in several ways, such as through page loading speed, server downtime, and location.
For instance, if your website takes too long to load due to a slow web host, site visitors are more likely to bounce off, and search engines may penalize you for poor user experience.
Moreover, it's important to consider where your hosting servers are located geographically because this factor can influence your website's performance for users around the globe.
A good way to address this issue is by opting for cloud-based hosting solutions that store information on multiple servers in various locations, thus providing better connectivity and faster response times regardless of where people access your site from.
Wise decisions when selecting an appropriate SEO-friendly web host will positively affect your website's visibility within search engine rankings while ensuring you provide the best possible user experience.
What Makes A Good Hosting Provider?
Consider the following key factors when choosing an SEO-friendly web hosting provider:
Server Reliability
Opt for hosting providers with multiple server locations to ensure maximum uptime and performance.
Uptime Scores
Look for providers with at least 99% uptime to minimize the risk of losing customers due to unavailable websites.
Security
Choose web hosts with robust security measures, like advanced software updates and firewalls.
Customer Service
Pick a host with 24/7 support through various channels to resolve issues quickly and minimize downtime.
Site Backups
Select providers with regular automated and manual backups to protect your site from unexpected events.
Registration and Maintenance Costs
Consider both initial and renewal rates, and be aware of any additional fees for essential services.
Ability to Add Domains
Choose a provider that allows multiple domains to accommodate business expansion or separate websites for different purposes.
Account Limitation
Take into account domain, subdomain, email, and storage space restrictions based on your website's requirements.
Email Options
Look for providers that offer domain-based email services with reliable uptime and spam protection.
Payment Methods
Consider hosting providers with various payment options and discounts for long-term subscriptions.
Best SEO Web Hosting Providers
Check out our list of the top 10 best SEO hosting providers with outstanding features:
Host Duplex
Nexcess
Cloudways
Jetrails
WP Engine
A2 Hosting
Hostinger
Chemicloud
Host Gator
GoDaddy
We'll now examine key features, uptime, pros, cons, pricing, and Trustpilot ratings of these SEO hosting providers:
1. Host Duplex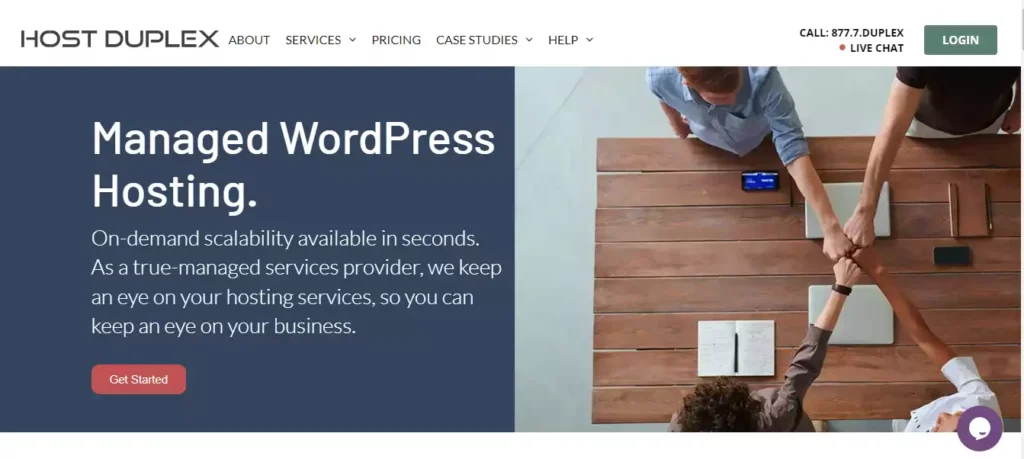 Host Duplex is a top-tier SEO web hosting provider offering enhanced performance and outstanding customer support. With free SSL certificates, LiteSpeed web server technology, and automatic WordPress updates, Host Duplex ensures your site stays optimized.
Host Duplex is an excellent choice for fast, secure, and flexible hosting solutions. Experience impressive uptime guarantee and choose from various cost-friendly hosting packages to meet your website's scalability requirements.
Features
SSD storage for fast loading times
Worldwide Server Locations
Global CDN
LiteSpeed web server for superior performance
Linux OS for improved security and stability
Staging environment
HTTP/2 enabled servers
cPanel control panel for easy management
Softaculous Premium auto-installer
Email accounts
SSH and SFTP access
Rock-solid security
1-Click WordPress installation
24/7/365 support via phone, email, and live chat
Money back guarantee
Uptime
Host Duplex offers an excellent uptime guarantee, surpassing the industry standard of 99.9%.
Pros
Fast and reliable hosting
Affordable, flexible pricing plans
Advanced firewall protection
Free SSL certificates, migrations, backups, and CDN
Free site migration for premium plans
Friendly, helpful customer support
Cons
Some features are only available with higher pricing plans
Pricing
Host Duplex offers affordable hosting plans starting at a mere $4.95/ month. Here are detailed plans:
Trustpilot Rating
4.8/5
2. Nexcess

Nexcess is a managed SEO hosting provider that specializes in WordPress hosting, WooCommerce, Magento, and other popular platforms. Known for fast, reliable, and secure hosting, Nexcess offers various features making it worth considering SEO hosting options for your needs.
Features
Autoscaling for optimal performance and availability
Cloud accelerator with CDN to improve speed and user experience
Development sites for testing and previewing changes
PCI compliance for secure online payments
24/7/365 expert support via phone, chat, or email
Daily backups with 30-day retention
Uptime
Nexcess guarantees a 99.9% uptime, using advanced technologies like containerization and auto-scaling.
Pros
Fast and reliable hosting with SSD storage, CDN, and caching
Flexible and scalable hosting solutions
Expert support and free migration services
Cons
Not beginner-friendly, potentially confusing for novice users
Not the cheapest option and may not suit users with a limited budget
Pricing
Nexcess's pricing plans start at $52/month.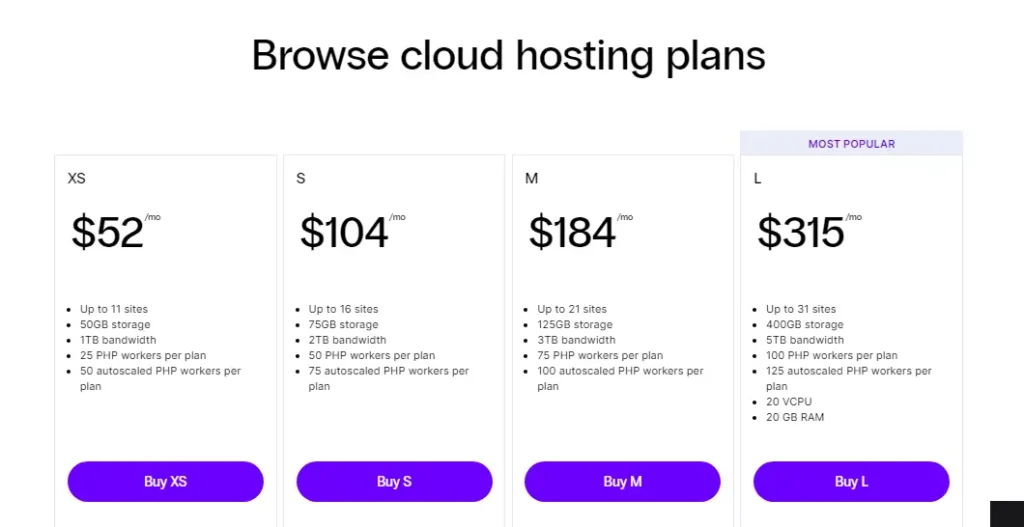 For more pricing details, visit Nexcess pricing
Trustpilot Rating
4.5/5
3. Cloudways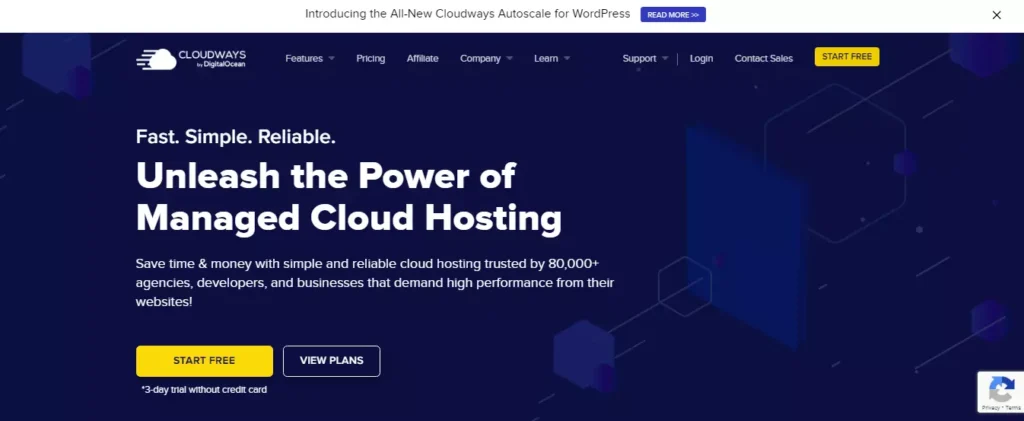 Cloudways is a top-rated SEO hosting provider offering managed cloud hosting solutions for various applications and websites. Cloudways provides fast, reliable, and flexible hosting, ensuring excellent uptime and performance across popular cloud providers like GoogleCloud, AWS, and DigitalOcean.
Cloudways is a great option for anyone who wants to enjoy the benefits of cloud hosting without the hassles of managing it. It offers fast performance, reliable uptime, flexible scalability, and affordable pricing. It also has a user-friendly interface and excellent support.
Features
24/7/365 expert support
Free SSL certificates
Free migration and unlimited application installation
Dedicated firewalls and regular security patching
24/7 real-time monitoring and automated backups
Staging environment and advanced caching optimization
Auto healing and HTTP/2-enabled servers
SSH and SFTP access and team management
Uptime
Cloudways guarantees a 99.98% uptime for its servers.
Pros
Choose from different cloud providers (DigitalOcean, Linode, AWS, GCE, Vultr)
Easily scale server resources
Pay-as-you-go pricing model with no lock-in or contracts
Free 3-day trial without a credit card
Cons
No root access, limiting advanced customizations
Extra costs for email hosting, domain registration, and premium support
Potential compatibility issues with some plugins or themes not optimized for cloud hosting
Pricing
Plans start from $11/month for a 1 GB RAM server with 25 GB storage and 1 TB bandwidth on DigitalOcean. Pricing varies based on the cloud provider, server size, and bandwidth.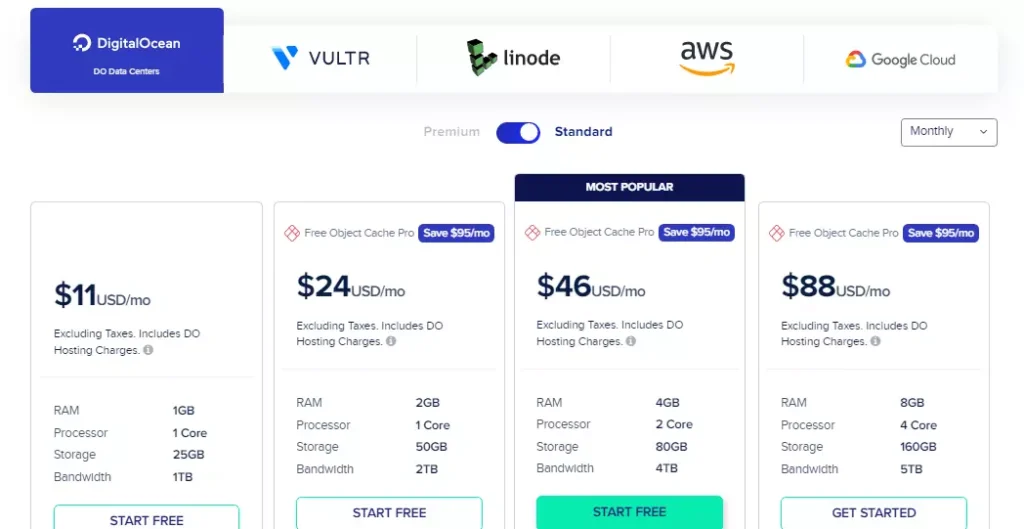 For more pricing details, visit Cloudways pricing.
Trustpilot Rating
4.5/5
4. Jetrails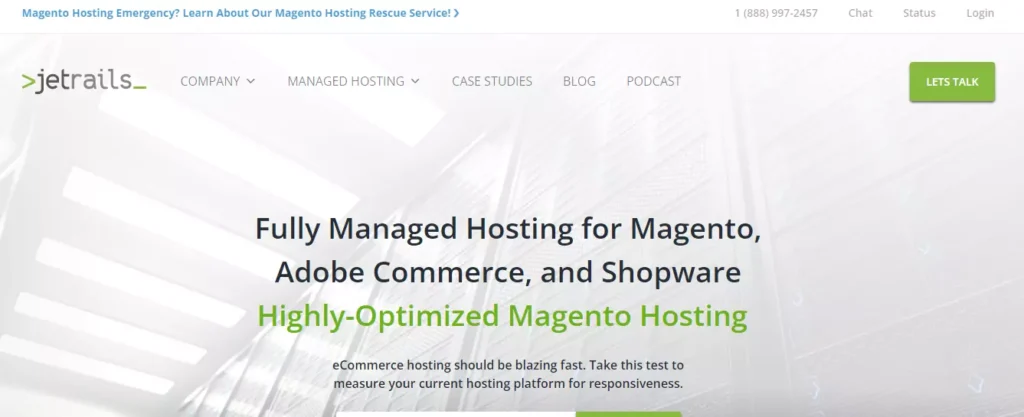 JetRails is a reliable and reputable SEO hosting provider offering high-quality e-commerce and Magento hosting solutions. If you seek fast, secure, and scalable hosting for your online store, JetRails is worth considering.
JetRails is a leading hosting provider specializing in mission-critical hosting for e-commerce stores and businesses, offering fully-managed services on both Amazon Web Services (AWS) Cloud and dedicated servers. With a team of strategic thinkers and years of e-commerce infrastructure experience, JetRails excels in custom-engineered solutions tailored to your business objectives.
However, if you have budget constraints or desire more flexibility and control over your hosting environment, you may want to explore other options.
Features
Fast loading speeds with SSD drives and CDN
24/7 support
Free SSL certificates
Daily backups
Malware scanning
Optimized for e-commerce and Magento platforms
Custom solutions and integrations available
Uptime
JetRails guarantees a 99.99% uptime for your website, ensuring consistent online accessibility.
Pros
High-performance hosting optimized for e-commerce and Magento platforms
Expert team with years of e-commerce infrastructure experience
Site migration services for businesses switching hosting providers
Built-in content optimization and caching features for improved website speed and SEO rankings
Cons
Higher pricing compared to some competitors
Limited resources and features in some plans
No free trial or money-back guarantee
Pricing
JetRails hosting pricing lacks transparency as no clear pricing structure is provided upfront, and potential customers must contact them to receive a quote, which may range from $150 to tens of thousands per month.
Trustpilot Rating
No rating score is available
5.WP Engine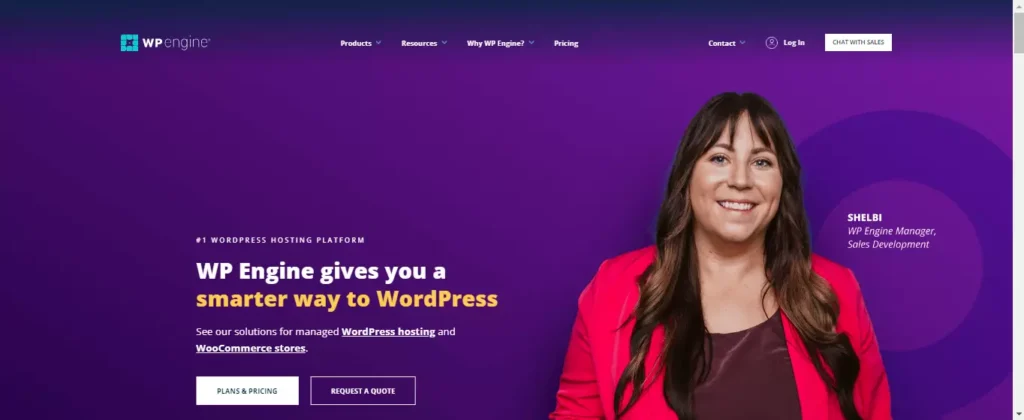 WP Engine, a popular and trusted managed WordPress hosting provider, offers fast, secure, and reliable hosting for WordPress sites of all sizes and types. With over 1.5 million active websites on its platform, WP Engine serves more than 185,000 customers in 150 countries.
It offers all the SEO features you may want. However, it may not be the most budget-friendly option, and it may not suit non-WordPress sites or users requiring email hosting or domain registration. Despite its higher price point and limitations, WP Engine's extensive features, generous money-back guarantee, and helpful support team make it a top contender for your WordPress site.
Features
EverCache caching system for faster page load times
Genesis Framework with SEO-friendly themes
StudioPress Themes
Automated Plugin Updates
20 global locations
Managed WAF
Site Monitoring
Daily Backups
Staging Environment
24/7 Support via chat
Uptime
WP Engine guarantees 99.95%
Pros
Fast, reliable hosting specifically for WordPress sites
WordPress-centric security and performance features
Access to premium themes and plugins
Cloud-based platform for easy scaling
Support from a friendly, knowledgeable team
60-day money-back guarantee
Cons
Higher pricing compared to some competitors
No email hosting or domain registration included
Limited storage and bandwidth on certain plans
Not suitable for non-WordPress sites
Pricing
Wp engine's pricing plans start at $24/month.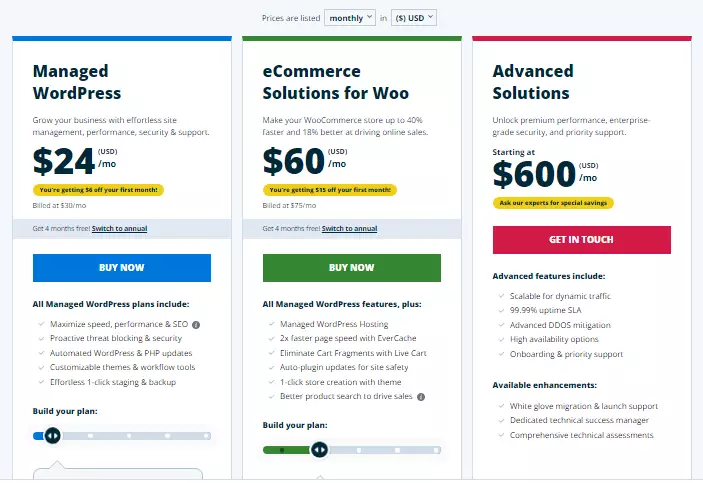 Trustpilot Rating
4.5/5
6.A2 Hosting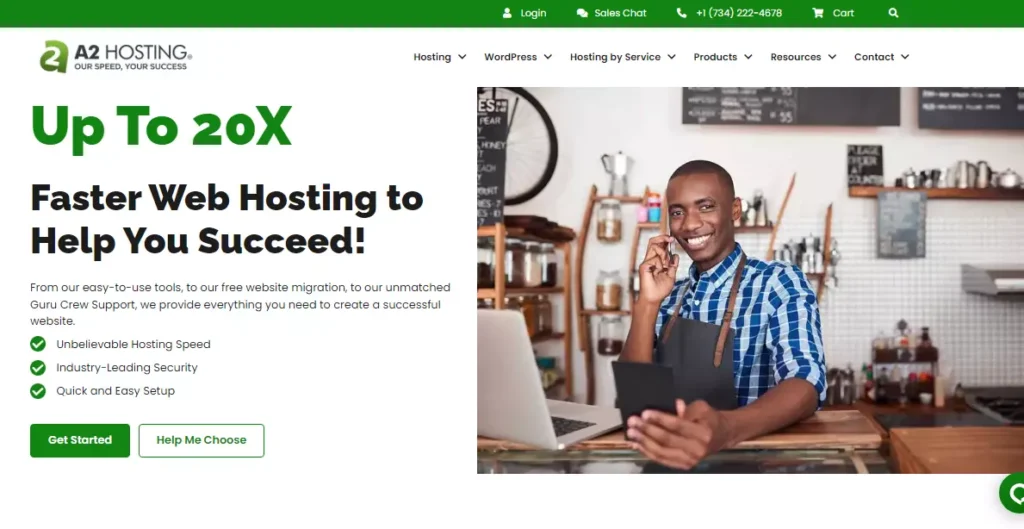 A2 hosting is a top choice for those seeking fast, reliable, and affordable SEO hosting solutions. Their performance-focused, blazing-fast web hosting services are optimized for SEO, making it easier to achieve higher search engine rankings. With a range of plans and SEO features, A2 Hosting is an excellent option to consider for your web hosting needs in 2023.
Features
Turbo plans with up to 20x faster web hosting using SSD drives, caching, and optimized servers
Free website migration, SSL certificates, domain registration, and email accounts
User-friendly cPanel control panel for website management
A2 Optimized plugin for pre-configuring WordPress installations
24/7/365 Guru Crew Support
30-day money-back guarantee
Uptime
A2 Hosting claims a 99.9% uptime commitment, ensuring your website remains online and accessible. In case of failure to meet their uptime commitment, A2 Hosting offers a service level agreement (SLA) that compensates with credits.
Pros
Fast, reliable web hosting with various options to meet diverse needs
Affordable pricing and discounts for longer-term contracts
Friendly and knowledgeable customer support available 24/7/365
Free extras, including website migration, SSL certificates, domain registration, and email accounts
Cons
Turbo plans are only available for higher-tier plans, which may be out of some budgets
Features like backups, malware scanning, and CDN are not included in basic plans, requiring additional fees
Some customers have reported issues with billing, refunds, and account suspensions
Pricing
A2 hosting plans are suitable for different needs and budgets. From shared hosting to dedicated hosting, A2 Hosting has solutions for everyone starting from $2.99/month.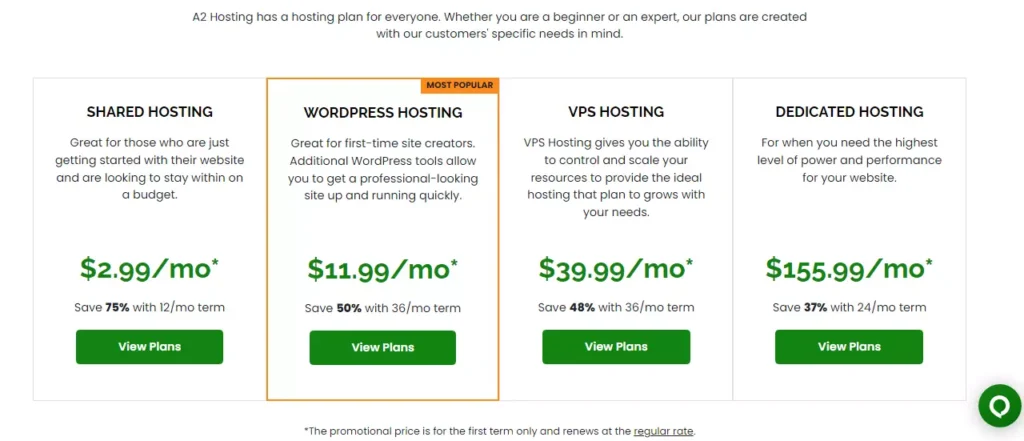 Trustpilot Rating
4.3/5
7.Hostinger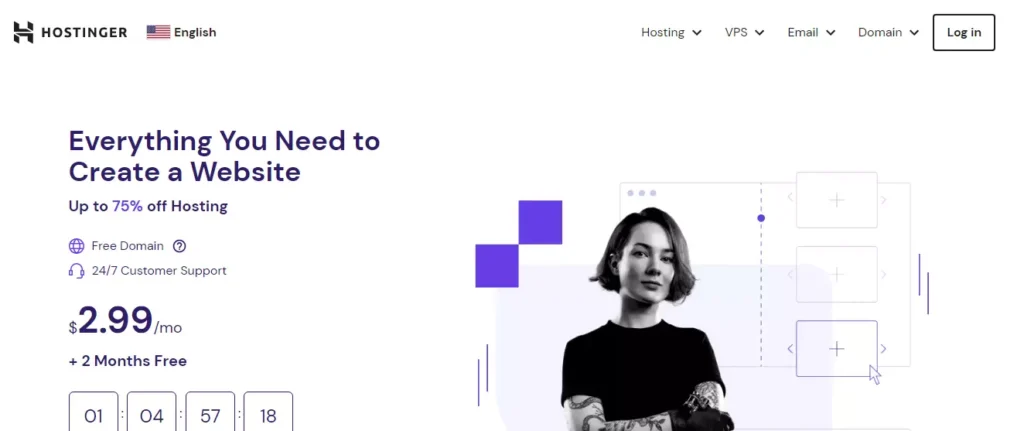 Hostinger is a highly-regarded, affordable SEO hosting provider that offers a range of plans and SEO features to cater to various needs and budgets. Known for its excellent performance and easy-to-use interface, Hostinger is the go-to choice for those seeking efficient SEO web hosting services.
Features
LiteSpeed Cache
HTTP/2
NGINX caching
Month-to-month pricing plans
24/7 multilingual customer support
Free website builder and domain name
User-friendly Hpanel
Uptime
Hostinger guarantees 99.9% uptime for all its web hosting plans, ensuring that your website remains online and accessible to users.
Pros
Fast loading times for improved user experience
Round-the-clock multilingual customer support
Smooth, easy-to-use interface
Scalable plans
User-friendly Hpanel suitable for non-technical users
Affordable plans with high-performance capabilities
Cons
Limited server options are available
Refund exceptions
Pricing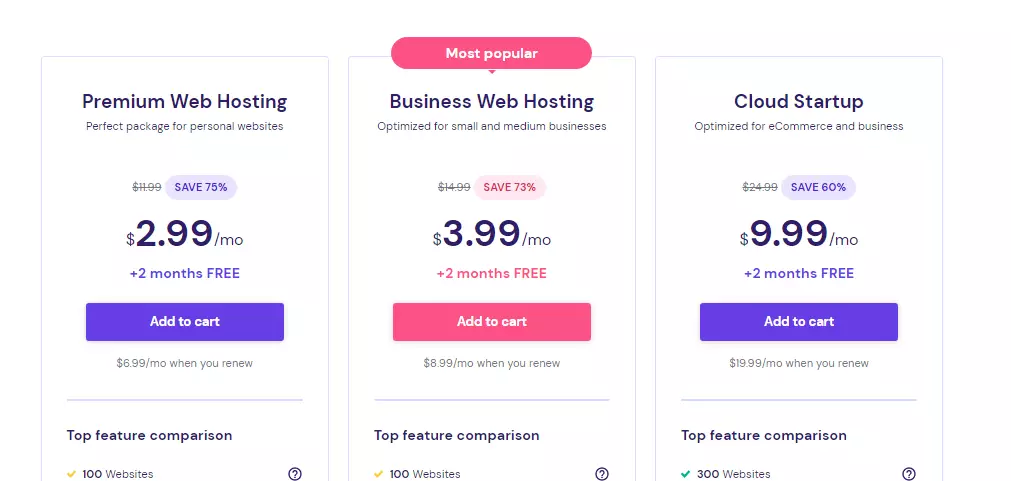 Hostinger offers a variety of hosting plans to suit different needs and budgets:
Shared Hosting:
Suitable for small to medium-sized websites
Prices range from $1.99 to $3.99 per month
The price depends on the number of websites, storage space, bandwidth, and other features included in the plan
Cloud Hosting:
Ideal for larger or more demanding websites
Prices range from $9.99 to $29.99 per month
The price depends on the CPU cores, RAM, storage space, bandwidth, and other features included in the plan
VPS Hosting:
Offers more control and flexibility over server resources and configuration
Prices range from $3.99 to $77.99 per month
The price depends on the CPU cores, RAM, storage space, bandwidth, and other features included in the plan
WordPress Hosting:
Specifically designed for WordPress websites
Prices range from $1.99 to $9.99 per month
Features optimized for WordPress performance and security
Trustpilot Rating
4.6/5
8.ChemiclouD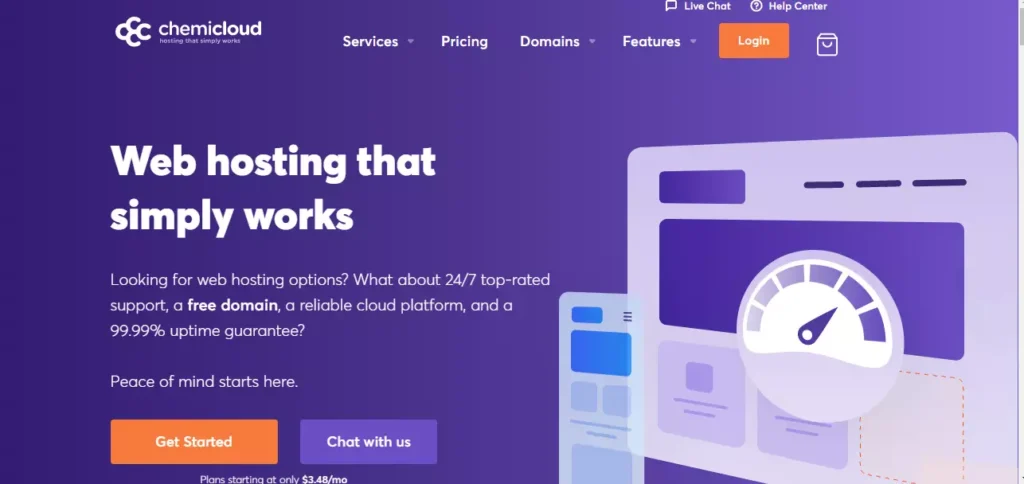 ChemiCloud is one of the best web hosting providers out there when it comes to SEO. They offer a wide range of services, including shared hosting, WordPress hosting, cloud VPS hosting, and reseller hosting.
ChemiCloud offers web hosting solutions designed to work seamlessly, backed by a reliable cloud platform and a 99.99% uptime guarantee. With a variety of hosting plans and SEO features for every website and budget, ChemiCloud ensures peace of mind for web developers and small businesses who are looking for the best SEO web hosts.
Features
24/7/365 expert support
Free domain name
Simple website builder
Worldwide server locations
Free SSL Certificate
LiteSpeed web server with LiteSpeed Cache plugin
Automatic daily backups
cPanel control panel
Hosting plans for shared hosting, WordPress hosting, reseller hosting, and VPS hosting
Uptime
ChemiCloud guarantees a 99.99% uptime for all its hosting plans, ensuring consistent and reliable performance for your website.
Pros
Top-rated customer support available 24/7
The free domain name and SSL Certificate included
Variety of hosting plans to suit different needs and budgets
Worldwide server locations for optimal performance
LiteSpeed web server for improved website performance
Automatic daily backups for data security
Easy-to-use hosting platform with cPanel
Cons
Limited options for manual backups
Limited security features for basic plans
Pricing
ChemiCloud offers a variety of hosting plans to cater to different needs and budgets:
Shared Hosting: Suitable for small websites, prices start at $3.48 per month.
WordPress Hosting: Optimized for WordPress websites, prices start at $3.48 per month.
Reseller Hosting: Designed for managing multiple websites with ease, prices start at $10.48 per month.
VPS Hosting: Powerful cloud VPS hosting with dedicated resources and easy scaling; prices start at $29.95 per month.
Trustpilot Rating
4.9/5
9.HostGator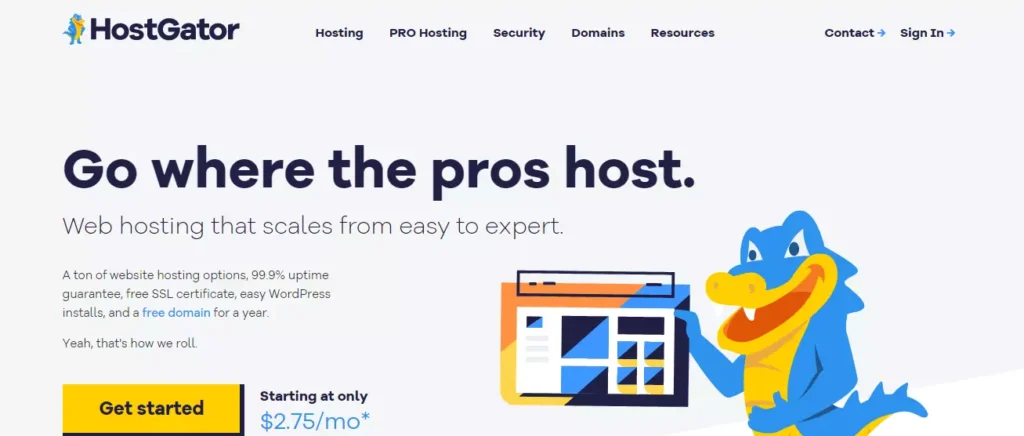 HostGator is a popular web hosting service that provides various hosting options such as shared hosting, WordPress hosting, VPS hosting, and dedicated hosting plans suitable for beginners and experts alike. It's recognized as one of the best SEO web hosting agencies, making it ideal for website owners who want to boost their search engine rankings.
HostGator offers various services, including reseller hosting, domain registration, affiliate programs, and SEO tools.
While HostGator has good performance, some security issues may make it unsuitable for websites requiring users to log in or pay for something. Its pricing model is also not the most cost-friendly in comparison to other providers on this list.
Features
A free domain for the first year
Free site transfers
Unmetered bandwidth
One-click app installs
Free SSL certificates
24/7/365 customer support
Free domain registration
SEO tools
Uptime
HostGator guarantees a 99.9% uptime, ensuring that your website remains accessible and functional for your visitors.
Pros
Easy-to-use hosting platform
Affordable sign-up prices
Wide range of hosting options
Excellent uptime guarantee
Cons
Not suitable for complex websites
Limited help center resources
Pricing
HostGator offers various hosting plans, starting at just:
$2.75 per month for shared hosting
$5.95 per month for WordPress hosting
$23.95 per month for VPS hosting
$89.98 per month for dedicated hosting
Trustpilot Ratings
4.1/5
10.GoDaddy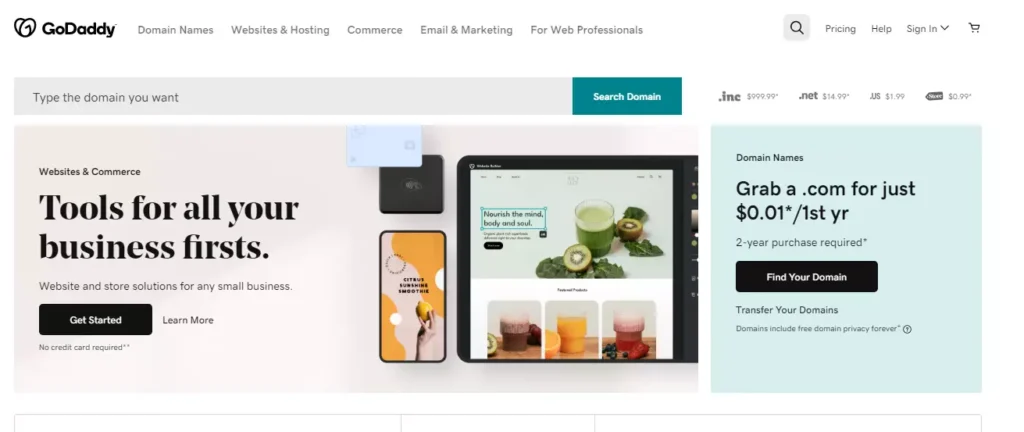 GoDaddy is a leading web services provider that offers a wide range of services, including domain registration, website building, and web hosting. With millions of customers worldwide, it is known for its responsive templates, user-friendly interface, and reliable hosting solutions.
GoDaddy is considered one of the best SEO web hosting agencies because it provides optimized hosting for websites and has dedicated plans and services to help improve website SEO.
In addition to these features, GoDaddy's website also provides resources and guides for beginners to understand and improve their website's SEO.
Features
Wide variety of responsive templates
Mobile-friendly designs
cPanel for advanced tools and easy domain migration
Professional email address creation
Capable of handling up to 20,000 visitors simultaneously
256-bit AES protection for email
Daily backups
Staging site
CDN
free SSL certificate
1-click WordPress installation
Uptime
GoDaddy offers an impressive uptime of 99.99%, ensuring your website remains accessible to visitors at all times.
Pros
Fast website creation experience
Top-rated web-hosting provider with fast site load times
Data centers in America, Europe, and Asia
Over 125 complimentary applications
24/7 call support for customer assistance
30 days money back guarantee
Cons
Price increases upon renewal
Lacks some advanced features offered by competitors
Pricing
GoDaddy's pricing starts at $4.99/month, offering a variety of plans and features to cater to different users' needs. It's important to note that prices may increase upon renewal, so be sure to review the terms before signing up.
Trustpilot Rating
4.7/5
Hosting For Specific Purposes
To ensure optimal website performance, it's important to choose a hosting provider based on specific needs. We've recommended providers based on their strengths for different purposes:
Best Hosting For WordPress: Host Duplex
If you're running a WordPress site, Host Duplex is your go-to for the best SEO web hosting. This managed WordPress hosting platform is optimized for mission-critical sites worldwide, prioritizing features that enhance a website's performance and SEO ranking.
In addition to its impressive technical capabilities as an SEO-friendly hosting service provider, Host Duplex also provides exceptional support and enterprise-class features.
The platform offers automatic updates of WordPress installations, link-building tools, Litespeed web server technology for quick content delivery network services (CDN), live chat customer support available 24/7/365 days a year at no extra cost – not forgetting their money-back guarantee if you aren't satisfied with their service.
Check out Host Duplex's SEO friendly Hosting Plans
Best Hosting For Blogs: Blue Host
If you're looking for the best web hosting provider for your blog, Bluehost is a popular choice. With feature-rich plans and affordable pricing, Bluehost offers easy-to-use WordPress website creation tools and 24/7 expert support to help get your blog up and running smoothly.
What sets Bluehost apart from other providers is its focus on blogging-specific features like customizable templates, unlimited storage, traffic analytics, email marketing tools, social media integration, and even e-commerce add-ons.
Plus, with their free domain registration service included in most plans, you can get started with a professional-looking website that's optimized for SEO without breaking the bank.
Best Hosting For News Websites: Host Gator
For those looking for the best web hosting provider for news websites, HostGator is a top contender. They offer shared web hosting and dedicated web hosting services with good performance scores.
Plus, HostGator has scalable cloud hosting plans that can handle high traffic spikes and sudden surges in demand. You can also easily upgrade or downgrade your plan as your needs change.
Best Seo Web Hosting For Ecommerce: Host Duplex
If you run an online store, you need a reliable and fast web hosting service that can handle high traffic and secure transactions. Host Duplex is a great option for eCommerce hosting and SEO. While it may not be the most well-known web host, it offers some of the best features for online stores. They provide affordable and high-quality e-commerce hosting with excellent customer service.
One important feature that sets Host Duplex apart from its competitors is its use of LiteSpeed Web Server, which can significantly speed up page load times for faster website performance.
Their servers are optimized specifically for eCommerce sites, ensuring fast load times, reliable uptime scores, and overall superior site performance.
Best Hosting For Beginners: Cloudways
If you are just starting out with web hosting, Cloudways is an excellent option. They specialize in managed WordPress cloud hosting and have easy-to-use tools for setting up your website without needing to be a server expert.
Their infrastructure is powered by some of the best cloud providers like Google Cloud Platform, AWS, DigitalOcean, Vultr, and Linode.
One great feature of Cloudways is that they offer 24/7 customer support through live chat or a ticketing system. This means that if you ever encounter any problems while setting up your site or even after launch, they will be there for you every step of the way.
Best Hosting For Small Businesses: Nexcess
For small businesses looking for reliable web hosting that won't break the bank, Nexcess is a great option. As one of the best cloud web hosting plans available, Nexcess offers multiple pricing options to fit your budget and hosting needs.
Their customer service is top-notch, with 24/7 support available via email or live chat. For those who need help managing their hosted websites and email accounts, managed hosting providers like Nexcess can alleviate constraints and provide peace of mind knowing your website is in good hands.
Conclusion
In a nutshell, choosing the right SEO web hosting provider can make or break your website's success. We've looked at top-notch providers like Host Duplex, Nexcess, HostGator, GoDaddy, and Hostinger, each with its own unique offerings and quirks.
To make the right choice, keep an eye on uptime, server speed, security, SEO tools, pricing, and customer support. Remember, it's all about finding the right fit for your specific needs and goals.
So, take your time, weigh the pros and cons, and soon you'll be rocking the online world with the ideal web hosting partner by your side that meets all your needs while helping you climb the search engine ranks.
FAQs
How Do I Choose SEO Compatible Hosting?
When looking for a good SEO host, there are several factors to consider:
Speed: Your website should load fast and smoothly to avoid high bounce rates and low rankings.
Uptime: Your website should be online and accessible at all times to avoid losing traffic and credibility.
Location: Your website should be hosted on a server that is close to your target audience to reduce latency and improve relevance.
Security: Your website should be protected from hackers, malware, and spam to avoid penalties and damage to your reputation.
Is Free Hosting Good For Seo?
Free hosting might seem like a tempting option for saving money and getting started with your website, but it is not good for SEO because of limited resources, low reliability, limited control, and weak security.
Does Switching Website Hosts Hurt SEO?
Switching website hosts can potentially hurt SEO if not done properly. Choosing low-quality web hosting can be a drag on your site's ranking, so it is important to choose a hosting provider like Host Duplex that offers reliable and fast servers with minimal downtime.