Adobe Commerce, a leading ecommerce platform, was originally released as Magento in 2008. Since then, it has grown significantly and now powers around 0.9% of all online retail stores. It has also cultivated an army of over 300,000 trained developers.
Due to Magento's popularity, 24/7 service and support for Magento-powered platforms websites. These support services can include assistance with relevant Adobe Commerce documentation, solving Adobe Commerce support issues, and providing direct access to the Adobe Commerce support team via a ticketing system.
Additionally, Adobe Commerce license owners can receive support from the Magento support team, but only the account owner can access the Magento cloud account page and manage support tickets.
Choosing the right Magento support firm for your business can be pretty challenging. That's why in this article, we will highlight our top picks for the best Adobe Commerce/Magento tech support firms and discuss how paying Adobe Commerce customers can choose the right support team for their ecommerce store.
What Is a Magento Tech Support Company and Adobe Commerce?
Before we start with our top ten list, let's see what a Magento tech support firm is and what it does.
Magento, aka Adobe Commerce, is an open-source eCommerce platform that specializes in eCommerce websites. A Magento tech support firm provides expert support services to online stores that use the Magento platform, including Adobe Commerce.
Why do you need support services for your Magento website?
Magento tech support firms enable store owners to customize their Magento website and offer relevant Adobe Commerce documentation and unique features to help store owners promote their e-commerce business, connect with customers, and sell their products and services.
The Magento Partner Program comprises expert developers and companies, including those of Magento developers. This vast network of Magento professionals provides merchants the support they need to solve Adobe Commerce support issues. It helps them grow their business, increase sales, and create the best customer experience.
Magento tech support firms use the Adobe Commerce ticketing system and Adobe Commerce support team to manage support tickets and provide timely and effective support for their clients' Magento websites and Adobe Commerce cloud applications.
10 Best Magento Tech Support Firms
So, now that we know what Magento tech support firms are and what they do, let's see which ones dominate today's market.
Vaimo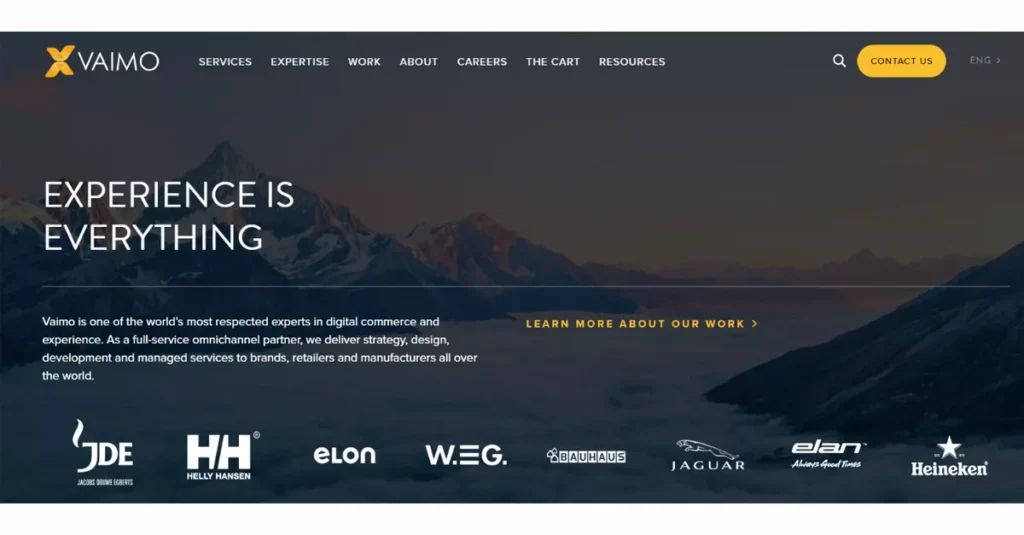 Vaimo is a Swedish firm that was founded in 2008. It is one of the most respected experts in digital commerce and is considered the top Magento 2 development agency. Vaimo has a dedicated workforce of over 450 specialists across 15 countries.
This Magento tech support firm has worked with over 400 B2B and B2C brands and merchants. It is a full-service omnichannel agency. For instance, it provides a wide range of services, including strategy consulting, omnichannel support, and design and development services to retailers and manufacturers worldwide.
Vaimo is a global elite partner with 91 Magento 2 certified professional developers. It also has 46 solution specialists for Magento 1 and 15 for Magento 2.
The design sensibility is…just super clean, super easy to use, and intuitive.

Vice President of Business Development at Flight Club
Atwix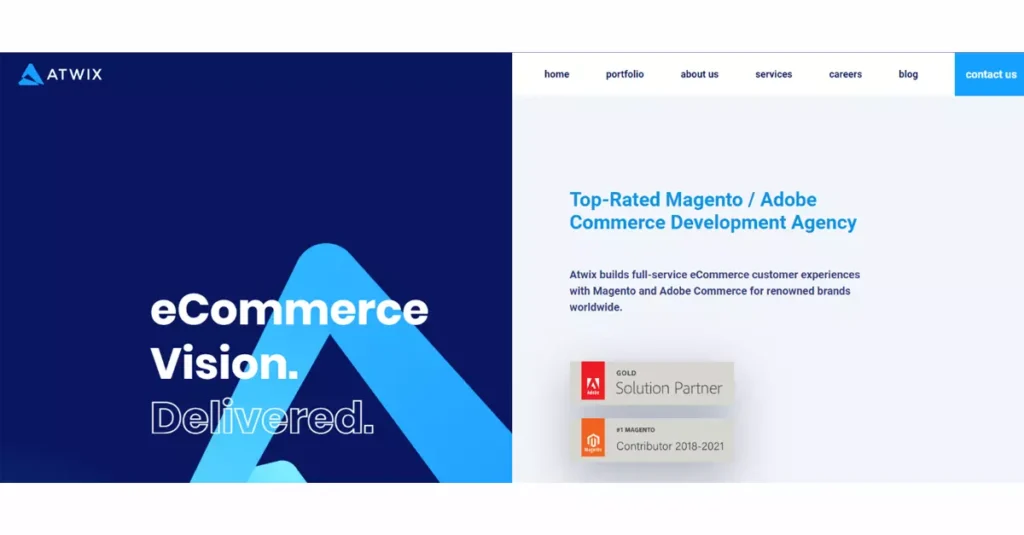 Atwix was founded in 2006 and is based in Slovakia. It became a Magento partner in 2011 and was dubbed the number one Magento contributor in 2018, with around 364 code contributions to the platform.
It is a full-service Magento tech support firm that provides design, performance, SEO, security, maintenance, consulting, and many other Magento development services.
Atwix has an expert staff of 25 certified experts that exceed Magento 2 certification exams. It is one of the best Magento web development firms, offering website development, performance development, ERP integrations, and mobile optimization.
We are impressed with their experience and the quality of their work.

Project Manager at MeasureUp
Meetanshi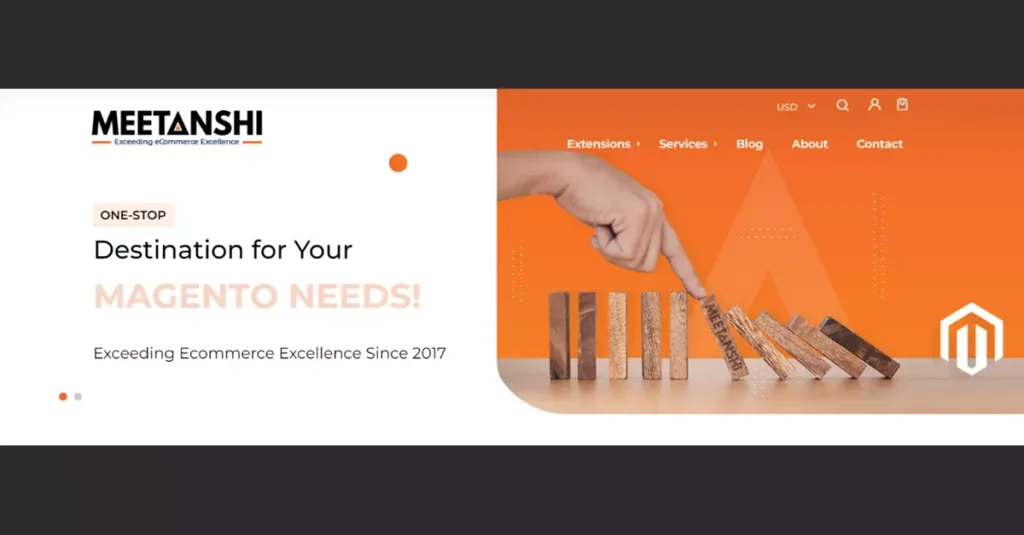 Meetanshi is an Indian Magento tech support firm that provides Magento development services. It provides merchants with best-in-class Magento 2 extensions that help increase sales and optimize performance. It also offers professional Magento 2 migration services and a risk-free upgrade service.
Meetanshi is known among merchants for its free one-year support and a free demo version which merchants can try before buying the service. Additionally, Meetanshi operates in over 125 countries, provides over 200 Magento extensions, and has over 10,000 satisfied customers.
Our clients are happy with the solutions that Meetanshi is delivering on our behalf.

Managing Director at Signature Image Consultants
Magenest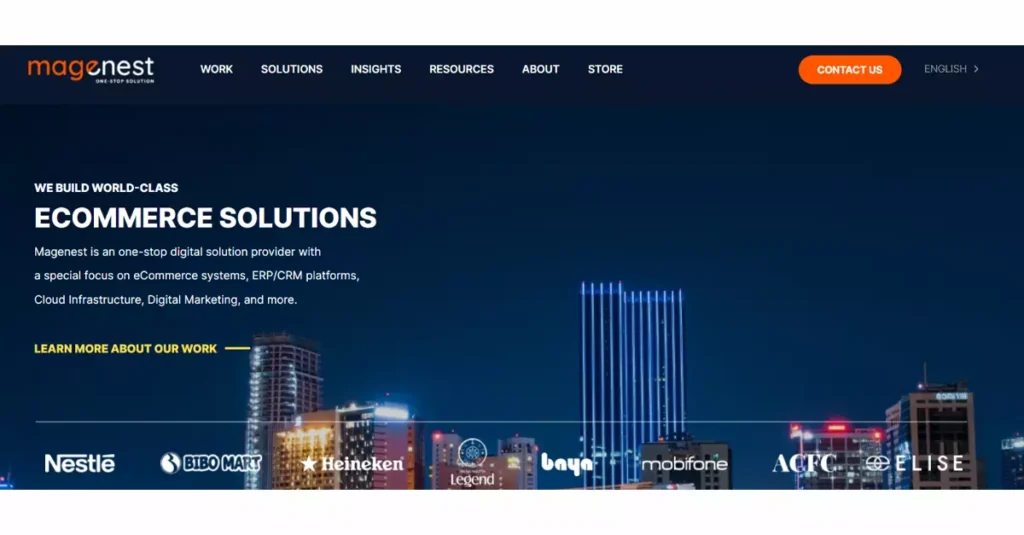 Magenest is a one-stop digital solution provider that works with many platforms, including Magento, HubSpot, Odoo, Amazon Web Services, and Shopify. It was founded in 2015 and has been recognized as a prominent Magento Solution Partner in the APAC region.
Magenest has an elite eCommerce team comprising 21 Magento 2 certified developers, nine certified professional developers, and three certified solution specialists.
Magenest employs expert account managers proficient in English and with significant technical expertise. They convey the merchants' demands and needs to Magenest's development team. Also, they perform additional services, including platform integration, site auditing, maintenance, and regular upgrades.
Magenest provides a wide range of Magento extensions and unique features that you can use to make your online store more user-friendly and enjoyable for customers.
The team did a great job at working internally to deliver all the tasks on time.

Nguyen Vu Hoa of Elise Fashion CO., LTD
Magently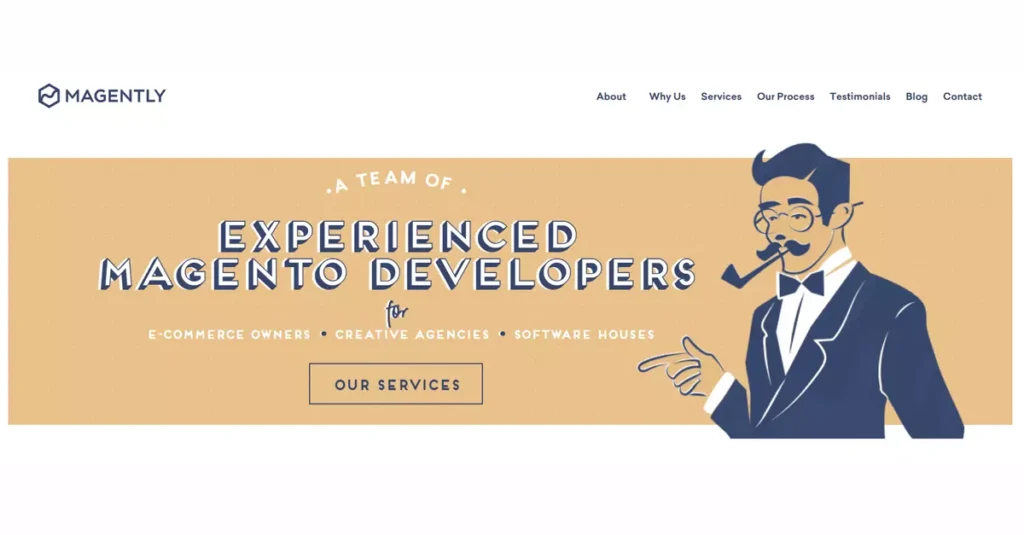 Magently or ChopChop was founded in 2013 and is based in Poland. Its expert developers have successfully launched and scaled complex Magento 1 and Magento 2 online stores since 2014. Magently specializes in implementation, but it also actively contributes to developing the Magento platform and provides hundreds of GitHub contributions.
The Magently team consists of certified Magento developers and official development partners that work tirelessly to provide the best Magento-based solutions, including web development, custom modules, migration to Magento 2, and maintenance.
Magently also offers SEO optimization, site speed enhancement, custom functionalities, ERP integrations, security and compliance checks, and mobile optimization.
The developers we worked with were very hands-on and fast.

Christian Drongowski, CMO of Machtfit GmbH
Mageplaza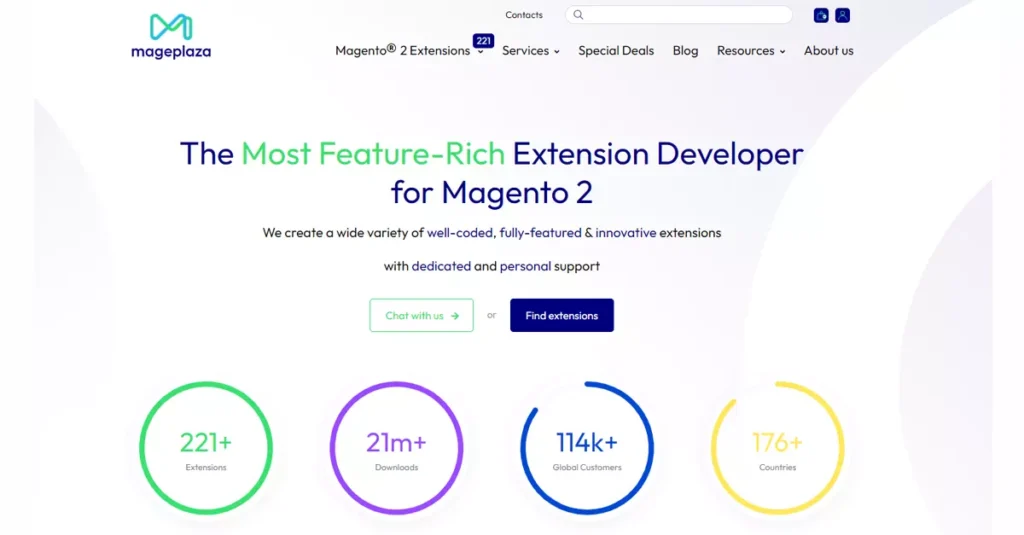 Mageplaza was founded in 2014. Since its inception, it has become one of the most trustworthy Magento tech support firms and is the top choice of over 110,000 merchants. It operates in around 180 countries and provides more than 220 extensions.
Mageplaza is popular among merchants because of its expert Magento developers, fantastic customer service, and incredible innovations in its processes. It offers numerous top-quality Magento 2 solutions, including development, support, maintenance, integration, and upgrades.
Additionally, Mageplaza helps B2B businesses of any size to improve their user experience, site optimization, shipping, payment, security, sales, marketing, and reporting and analytics.
They are very experienced, and they released so many free extensions in the market, which is very useful.

Amir Hossain, Technical Lead at CVDA Holding LLC
Born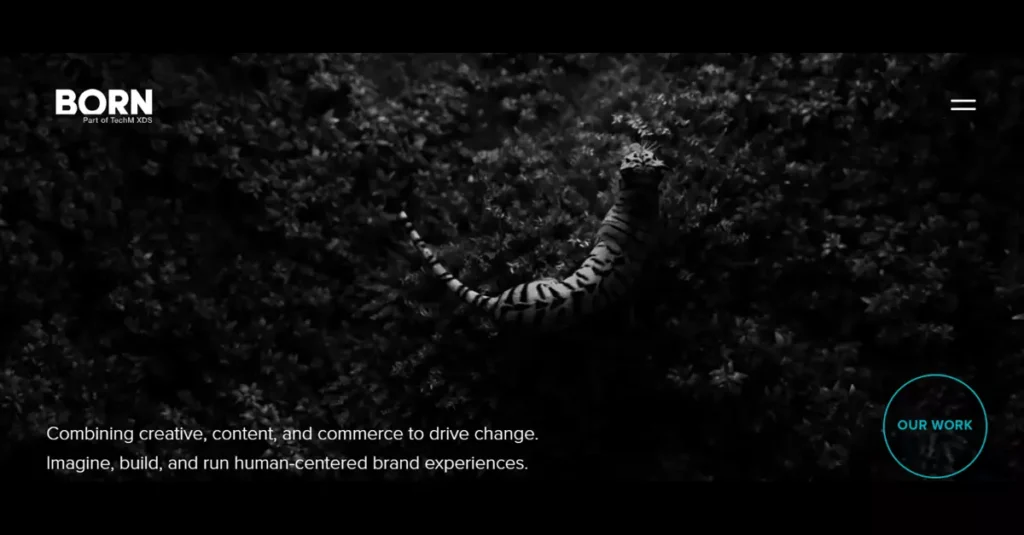 Born is one of the largest independent Magento tech support firms that deal with customer and brand experience. It has eight offices located in eight different countries. Born is an award-winning agency that specializes in enterprise commerce and experience design. In its 20+ years of experience, it has spearheaded over 500 digital transformations for both B2B and B2C businesses.
Born has an expert team comprising 83 Magento 2 certified employees and 15 certified solution specialists. It provides many top-quality solutions, including consulting, omnichannel experiences, design, cloud computing, and commerce.
BORN's understanding of the e-commerce platforms we're working with is impressive.

Director of Product Management at an E-Commerce Software Company
Elogic Commerce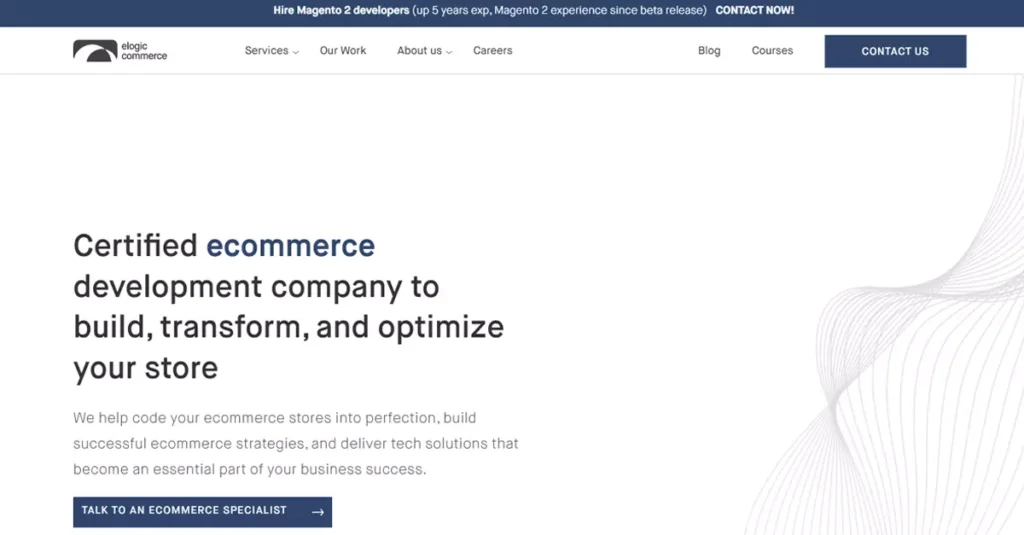 Elogic Commerce is a Magento development company that provides high-quality outsource Magento service software. It was founded in 2009 and is powered by dedicated Magento teams filled with experts. It is a large contributor to Magento and is an official Adobe Solution Partner that has over 60 certified Magento developers.
Elogic's team of Magento experts is here to help B2C and B2B businesses launch their online stores, improve site performance, migrate to Magento 2, create a custom theme, integrate third-party apps, and upgrade to the Magento Cloud.
However, one downside to Elogic is its limited customer base because it primarily caters to the US and UK markets.
Their team was fast and met the goals we wanted to achieve in a straightforward manner.

Executive Assistant at WTG Spain
BelVG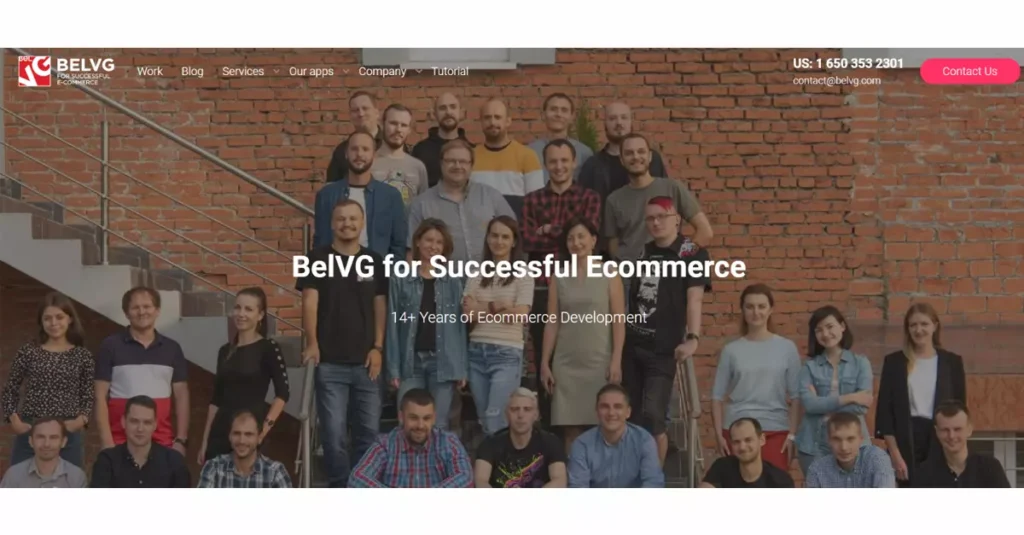 BelVG is a top-quality service provider with over 14 years of experience in eCommerce development. It offers top-quality outsource Magento service. Since its inception, it has cultivated a global customer base, but it is most popular among EU merchants. BelVG would be an excellent choice for anyone that has a target audience in Europe.
Aside from Magento, BelVG also specializes in developing online stores on Shopify, PrestaShop, and WooCommerce. However, it is worth noting that because BelVG provides multi-platform support, it might be a bit too general and not only focused on Magento services.
We always have a reliable contact and feel very well cared for.

Ronny Martick, founder of Lauftraining.com GmbH
Magneto IT Solutions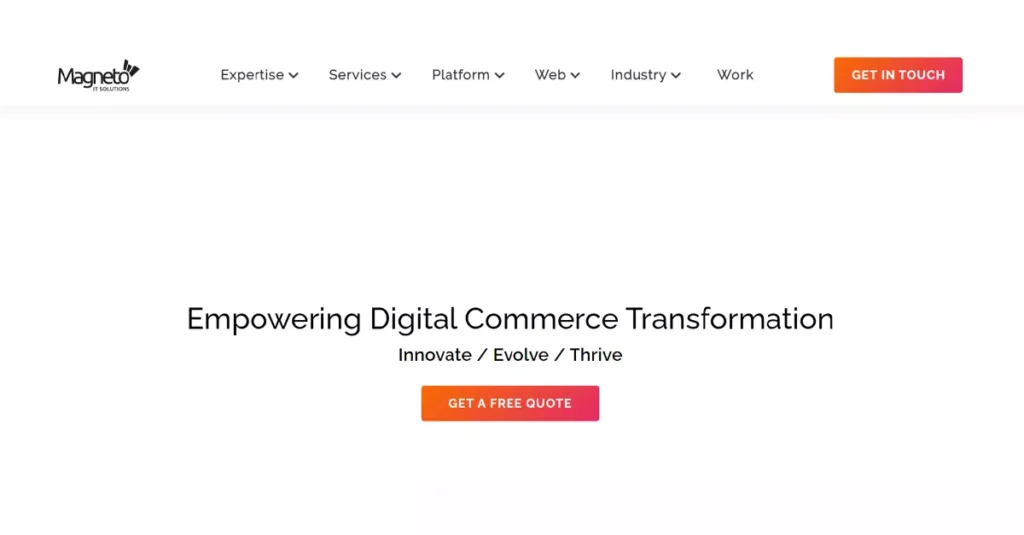 Magneto IT Solutions is a Magento development firm based in India. It has over 12 years of experience in the industry and has won more than six awards for its services. It has launched over 250 online stores and provides Magento solutions to B2C, B2B, D2C, and multi-vendor businesses.
Magneto IT Solutions provides various services, including business strategy, consulting, and app design and development. It is an excellent choice for anyone looking for help with different aspects of an online store.
However, if you are looking for Magento eCommerce solutions specifically, you should consider that Magento solutions are just a tiny part of the services this firm offers. Therefore, Magento-based solutions are not the primary focus of Magneto IT Solutions.
They were competent, and they thoroughly understood our needs.

Hannah Roberts, Marketing Manager at Diamond Boutique
Key Features to Look for in a Magento Tech Support Firm
Before settling on a Magento tech support firm, there are many factors that you should consider so that you choose the one that will satisfy your needs and provide the appropriate resources. We will list some of the most important factors you should look into below.
Expertise and Experience
Make sure that the firm you choose has a team of experts who are experienced in dealing with Magento-related issues. Look for firms that have certifications or partnerships with Magento or Adobe Commerce.
Availability and Response Time
Choose a firm that is available to provide support 24/7 or during the hours that your business operates. Ensure that they have a fast response time, ideally within an hour of reporting an issue.
Communication Channels
Choose a firm that offers multiple communication channels such as phone, email, and live chat. This ensures that you can get in touch with them quickly and easily.
Service Level Agreements (SLAs)
Look for firms that offer Service Level Agreements (SLAs) which outline the level of service that you can expect, including response times and issue resolution times.
Expertise in Relevant Adobe Commerce Documentation
Make sure that the firm has a good understanding of relevant Adobe Commerce documentation. This ensures that they are well-equipped to provide accurate and efficient support.
Service Hours and Availability
Check if the firm offers emergency support outside of regular business hours. This is important in case you experience any critical issues outside of normal business hours.
How to Choose the Right Magento Tech Support Firm?
Before settling on a Magento tech support firm, there are many factors that you should consider so that you choose the one that will satisfy your needs and provide the appropriate resources. We will list some of the most important factors you should look into below.
Define Your Needs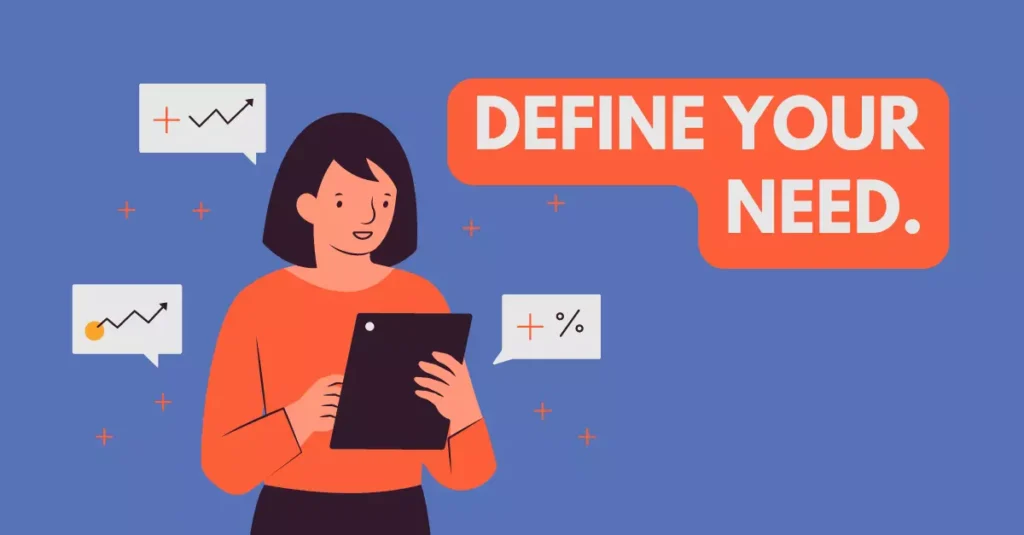 In order to choose the right Magento tech support firm, you have to know what you are looking for so that it is easier for you to find the right agency. It is best if you make a well-defined plan that clearly lists the type of website you want to have. To create this list, you can look into the following aspects:
Market insights and strategies
Your potential product range
Customer demands
Competitor analysis
The latest eCommerce technologies and trends
You can use the data you get from your research to create an outline for your website, which will significantly help you pick the right developers that offer the services your business needs.
Set Your Budget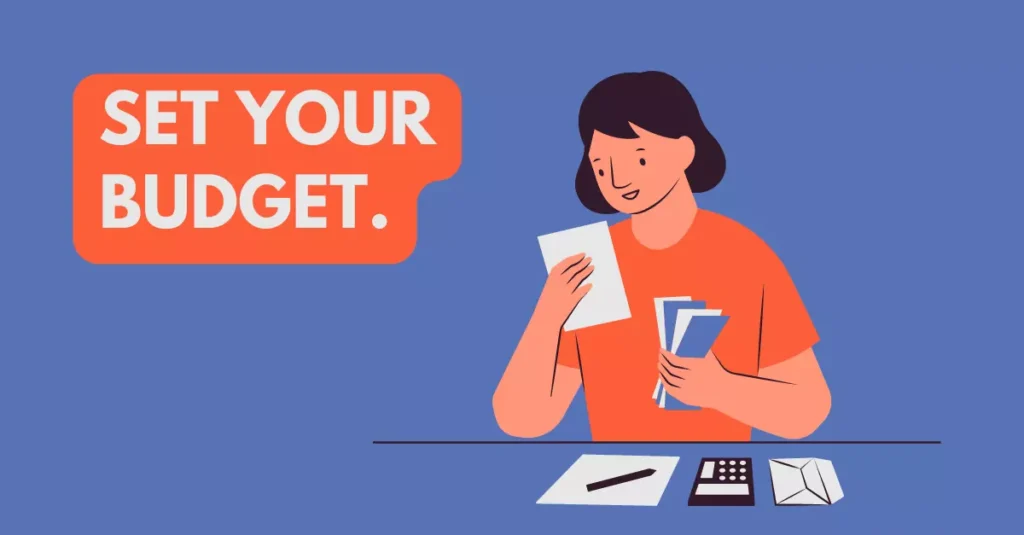 Setting your budget before starting your search for a Magento support firm is crucial, so you do not overspend and create more problems for your business. Still, a good, high-quality Magento website is not cheap to build.
Therefore, instead of searching for the cheapest Magento tech support firm, you should focus on finding one that will meet all your requirements at an optimized cost. This will prevent you from getting a subpar Magento agency, which can create more issues for you in the future.
Most websites recommend spending between 3%-5% of your total revenue when building your eCommerce store. But, of course, each business is different, so it is up to you to decide whether you follow this advice.
Get Price Quotes and Compare Them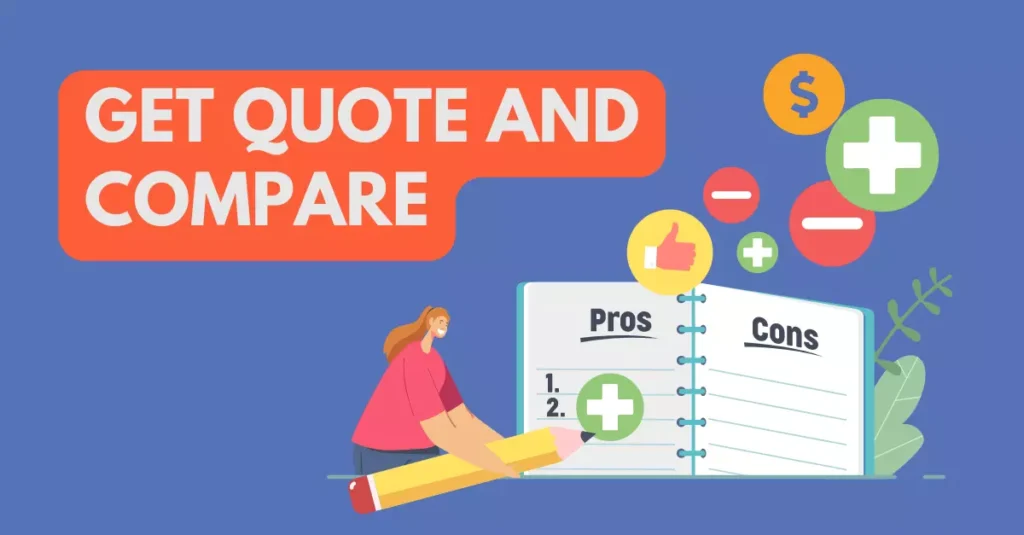 To ensure that you pick a firm that fits your budget, consider getting price quotes from different companies and comparing them to one another. This way, you find out what the price depends on for each Magento firm.
Some companies base their Magento prices on the number of features you want, while others on the hours worked per month. Some might charge you based on the number of items you sell. Or, some might use a flat fee model for their pricing.
The pricing quotes can help you discover which company offers the best pricing model that will fit your business operations and will allow you to make an informed final decision.
The Reputation and Size of the Firm Matter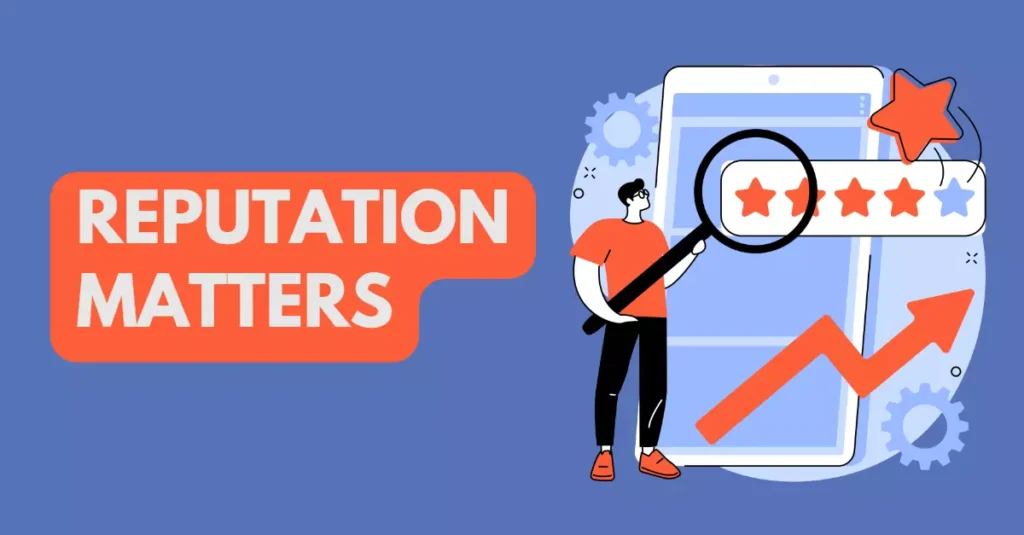 It is vital to consider the Magento tech support firm's reputation and size. This way, you will know whether the agency has enough resources and skills to help you build and maintain your Magento store.
The best way to determine whether an agency is worth it is to check out its current and past project lists. Through this, you can get helpful insights into how the agency works with its customers and see whether it can offer high-quality services and support.
Another indicator of a high-quality agency is if it contributes to the Magento community. So, you should check if the agency writes articles about Magento, PHP, and eCommerce and if its developers are active on Magento StackOverflow or StackExchange, and GitHub.
Research the Firm's Security Features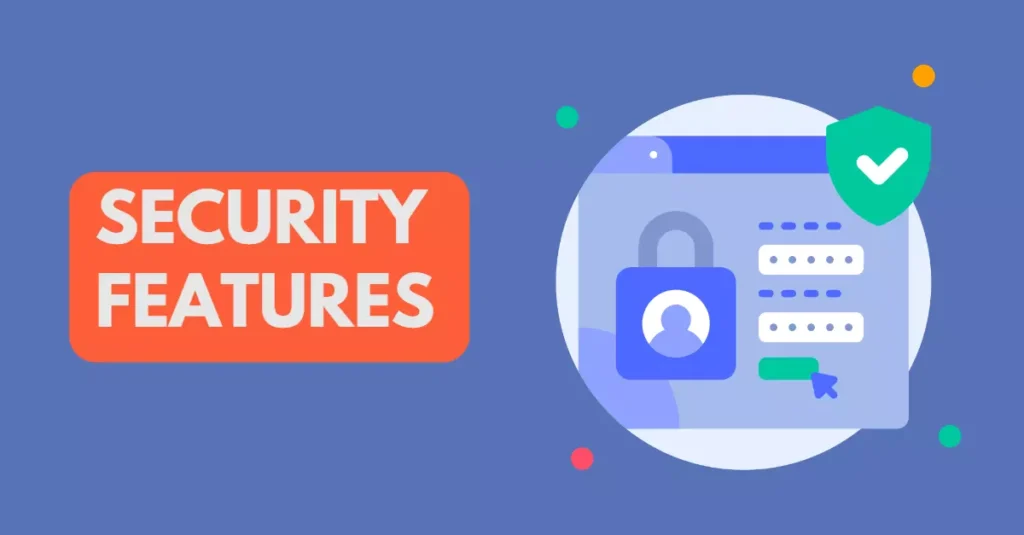 It is pretty challenging to protect your data online, even if you use an in-house Magento development team. It becomes even more difficult once you start using third-party firms. Essentially, no method will guarantee your data's safety 100%.
However, there are several ways you can avoid data loss when outsourcing, which include:
Sign an NDA (Non-Disclosure Agreement): By signing this legal document, the agency and the merchant recognize that the project and its data will not be shared with any third party without permission. You can visit this link* to find a free NDA template and see what it looks like.
Own your code: You, the merchant, should have intellectual property over the code and technology. It is a crucial factor to remember, especially because not all Magento tech support firms include it in contracts. To ensure the safety of your code, you can sign a software development agreement, which usually looks like this*.
Don't overshare: Ensure you only share your data with people you can trust and allow access to responsible employees and no one else.
Test your tech support company's security – To ensure that the Magento tech support firm you choose can provide sound support to you, you can use the Synk.io website scanner to see whether the company protects its own website appropriately. If the company does score at least a grade B, you should consider going with a different firm.
*Note: It's important to know that we are not lawyers or professionals. We linked the NDA and software development agreement templates to show you what they usually look like. Use the templates at your own discretion.
Interview Your Company's Tech Support
The best way to see whether your Magento firm offers helpful and expert tech support is to contact its support team and ask them a technical question. This will help you gauge their response and see whether they have the expertise they say they do.
For example, you can send them the following message: "My Magento indexer is timing out and is unsuccessful. What could be causing this?" Or, you can ask about anything you want; just make sure it is related to a technical issue.
With this question, you'll be able to see whether the agents know how to help you and whether they provide a satisfactory solution. You will also find out how long it takes for them to respond, which is crucial to know for any future communication you might have with them.
Final Words
Magento is a fantastic eCommerce platform that can benefit merchants across all industries. No matter what products or services you sell, having a Magento-powered online store will help you create a high-quality eCommerce website that will attract customers.
Additionally, the right Magento tech support firm will help you to increase your sales, improve your site's performance, handle the Magento development, and create the online store you've always wanted.
Of course, it can be pretty challenging to pick the right Magento agency for your business, considering that there are many options. So, before settling on a Magento tech support firm, you should clearly define your needs, decide how much you want to spend, and research the agency's reputation and security measures to ensure that it provides high-quality service and support.