---
Happy Earth Day!!!
One thing that I've noticed with today's industry (and not just with web hosting) is that companies are trying their best to reduce if not neutralize their carbon footprint. In our industry, where data centers consume almost 5% of the all the worlds power, carbon reduction is of the utmost importance.
What companies are really doing is they are neutralizing their carbon footprint to offset their carbon emissions. They can do this through funding different green projects such as wind and solar energy, and by reducing their own carbon emissions through more responsible energy consumption
What are we doing?
1. Data Center: Our Data Center is now using more efficient HVAC (Heating, Ventilating, Air Conditioning) systems.  An example of of one of the measures our data center has taken is that we are using water cooling to cool the servers, which in turn much cleaner and much more  efficient then traditional methods.
2.Virtualization: Virtualization technology has revolutionized the IT industry.  We have fully utilize virtualization for our own in-house purposes packages that efficiently utilize each of our servers.  We have also created VPS packages for our users.  If you do not need an entire server, why pay for one?  You're saving money, space, and power.  We offer Virtual Private Servers which are based on your needs,  segments an entire portion of a server.  You're usage and space is yours alone, and now you are using your space as monetarily and technologically efficient as possible.
3. Server Utilization:  Some web hosting companies may overlook utlization.  4 servers being used at 50% capacity still all use 100% power.  We use virtualization in our servers to maximize efficiency.  By using one server to process multiple virtual machines that handle different applications we can now maximize the space used while minimizing power consumed.  i.e. instead of using 8 servers (4 redundant pairs), we can use two servers using virtualization to efficiently maximize all the capabilities of each server.
4. LIGHTING:  I stress this because so many people overlook something as simple as efficient bulbs, and even simpler, turning lights off when not in use.  A couple measures we have taken are to use reduced wattage bulbs as well as LEDs.  We are also in the process of installing timers for the lights for facilities such as the restrooms and kitchens.  Another simple measure, is opening all the blinds during work hours.
5. Renewable Energy Certificates (RECs): Offsetting our carbon emission to create a greener planet and we are always trying to offset our carbon footprint.  One of ways to do this is through RECs.  These are  certificates fund different projects throughout the world to create renewable energy sources.  We are currently very interested in researching solar and wind energy.  The companies we have expressed creating partnerships with are among the top REC distributors following all EPA regulations and creating their renewable energy sources in sites that are as carbon neutral as possible.
---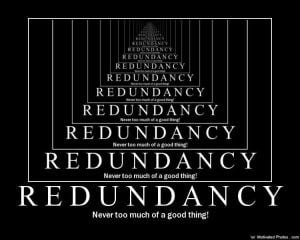 In the world of web hosting, there's plenty of terms that get used without companies providing adequate definitions.  I wanted to take some time and share a few words with you about Redundancy.
Redundancy is in layman's terms backup.  There are also several different types of redundancy: Network, Hardware, Power, and Geographic. A solid web hosting company will have multiple layers of Redundancy to ensure that your data is safe and to maximize your uptime.
Network Redundancy:
This backup is simply for the network a web hosting company uses to get you online.  Reliable proviers have multiple internet carriers that their servers use to ensure that your website never goes down.
Hardware Redundancy:
This backup is for the physical pieces of server hardware.   For instance one layer of redundancy is for the hard drives.  Here at Host Duplex, if a hard drive fails in our Dell PowerEdge servers, your site will not go offline, we have hot spares in place so our RAID arrays are immediately rebuilt.  We have a similar system for our sticks of RAM.
Power Redundancy:
These are the backups for the power that keeps your servers and data center running.  All of our servers have redundant power supply units.  Each PSU has a feed from a different utility company.  Each feed is also connected to it's own UPS (uninterrupted power supply) which hold 3 hours of battery backup should the data center lose power, which is also connected to diesel generators should a power outage last longer than 3 hours.  So if an entire feed fails, including the feed's UPS and generator, there is still a second feed from a separate electric provider with its own UPS and generator to keep your site online.
Geographic Redundancy
Finally there is geographic redundancy.  Host Duplex provides geographic redundancy services so that in the case of a complete datacenter failure, your site can be rerouted to a different datacenter.  I'm proud to say our data center is protected like Fort Knox and has enough redundancy to remain operational through natural disasters.  However, should the apocalypse take down our data center, Host Duplex offers services to have your site working non-stop in our Denver datacenter.
Hopefully this clears up any confusion or questions regarding Redundancy.  If you have further questions, feel free to comment, or shoot us an email directly.
---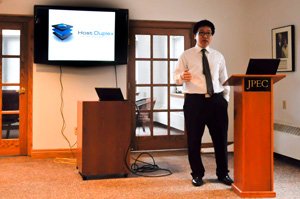 I'm very pleased to report that our presentation at the University of Iowa Bedell Entrepreneurship Learning Laboratory (BELL) for student entrepreneurs went without a hitch.   My first reaction was that there was an excellent turnout, even though it was the Friday (April 2, 2010) before a holiday.  My second reaction was there was an abundance of Papa Johns Pizza!  A big thank you goes out to Lynn Allendorf of the John PappaJohn Entrepreneurial Center (JPEC) not only for lunch, but also for the amazing opportunity to share our experiences and knowledge with upcoming entrepreneurs who came to the BELL
We held some very interesting conversations with Jordan Tivers of Collegeinformant.com, Iowa City business owner Mokotsi Rukundo of The CorNroC, Golf Database, Hawk City Productions LLC, SMARTERX, and others.  We were very excited to hear of their successes.  I am convinced that our success can help our fellow entrepreneurs in the future and am very excited to continue relations with the rest of the Bedell entrepreneurs.
This opportunity was a great one to not only educate the students on what to look for when searching for the appropriate web hosting company, but to also offer our web hosting services.  I was very pleased to hear the entrepreneurs were interested in our Virtual Dedicated Servers.  I am confident that this first step will lead to a long lasting relationship with the many generations of University of Iowa Bedell student entrepreneurs to come.
---
---