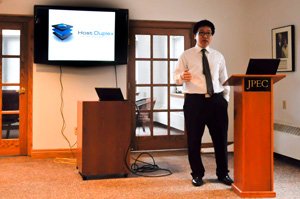 I'm very pleased to report that our presentation at the University of Iowa Bedell Entrepreneurship Learning Laboratory (BELL) for student entrepreneurs went without a hitch. My first reaction was that there was an excellent turnout, even though it was the Friday (April 2, 2010) before a holiday. My second reaction was there was an abundance of Papa Johns Pizza! A big thank you goes out to Lynn Allendorf of the John PappaJohn Entrepreneurial Center (JPEC) not only for lunch, but also for the amazing opportunity to share our experiences and knowledge with upcoming entrepreneurs who came to the BELL
We held some very interesting conversations with Jordan Tivers of Collegeinformant.com, Iowa City business owner Mokotsi Rukundo of The CorNroC, Golf Database, Hawk City Productions LLC, SMARTERX, and others. We were very excited to hear of their successes. I am convinced that our success can help our fellow entrepreneurs in the future and am very excited to continue relations with the rest of the Bedell entrepreneurs.
This opportunity was a great one to not only educate the students on what to look for when searching for the appropriate web hosting company, but to also offer our web hosting services. I was very pleased to hear the entrepreneurs were interested in our Virtual Dedicated Servers. I am confident that this first step will lead to a long lasting relationship with the many generations of University of Iowa Bedell student entrepreneurs to come.