---
When choosing a web hosting provider, it's tempting to go with the cheapest possible option. After all, why pay anywhere from $10 to $40+ a month when you can pay five bucks or less?
Well, several reasons.
Since the early days of the internet, fly-by-night providers — and even a few of the larger, more established ones — have been offering ridiculously low prices, often packaged together with impossibly lofty promises (check out the earlier entry on "unlimited" bandwidth). Before signing on with that kind of deal, here are a few things to consider:
What Rock-Bottom Prices Really Mean
A provider's hardware budget comes, in large part, from their hosting fees, or lack thereof. A provider who charges pocket change isn't likely to have much more than pocket change for maintenance, upgrades, or overhead. It's not uncommon for budget providers to host their clients' sites on ramshackle custom-built machines, machines that often fail, without enough redundancy in place to keep their clients' sites up when they do go down. It goes without saying that even a few hours' down time can cost an e-commerce site hundreds, thousands, or more in lost business — much more than they "save" on hosting fees, and that's if a few hours is all it takes for the site to come back.
On a related note, a provider who skimps on hardware isn't likely to spend much on customer service either. When it comes to e-commerce, tech support has to be decisive, effective, and immediate — and more than that, a paying client has the right to know that it will be. Sadly, there's an entire genre of stories about poor customer service, much of it online. A fly-by-night provider might take hours, even days or longer, to answer back, and may or may not be able to solve the problem. In the worst cases — they've been rare, but they do happen — entire websites have been lost.
Bargain-bin rates are certainly eye-catching, and they may appeal to your pocketbook, but be aware of those long-term costs, and always read the fine print.
When you invest a little extra, you're investing in better hardware, ongoing upgrades, higher security, capable customer service, and, above all, reliability. What it all adds up to is peace of mind, and that's something more valuable than any discount.
---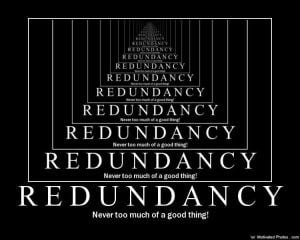 In the world of web hosting, there's plenty of terms that get used without companies providing adequate definitions.  I wanted to take some time and share a few words with you about Redundancy.
Redundancy is in layman's terms backup.  There are also several different types of redundancy: Network, Hardware, Power, and Geographic. A solid web hosting company will have multiple layers of Redundancy to ensure that your data is safe and to maximize your uptime.
Network Redundancy:
This backup is simply for the network a web hosting company uses to get you online.  Reliable proviers have multiple internet carriers that their servers use to ensure that your website never goes down.
Hardware Redundancy:
This backup is for the physical pieces of server hardware.   For instance one layer of redundancy is for the hard drives.  Here at Host Duplex, if a hard drive fails in our Dell PowerEdge servers, your site will not go offline, we have hot spares in place so our RAID arrays are immediately rebuilt.  We have a similar system for our sticks of RAM.
Power Redundancy:
These are the backups for the power that keeps your servers and data center running.  All of our servers have redundant power supply units.  Each PSU has a feed from a different utility company.  Each feed is also connected to it's own UPS (uninterrupted power supply) which hold 3 hours of battery backup should the data center lose power, which is also connected to diesel generators should a power outage last longer than 3 hours.  So if an entire feed fails, including the feed's UPS and generator, there is still a second feed from a separate electric provider with its own UPS and generator to keep your site online.
Geographic Redundancy
Finally there is geographic redundancy.  Host Duplex provides geographic redundancy services so that in the case of a complete datacenter failure, your site can be rerouted to a different datacenter.  I'm proud to say our data center is protected like Fort Knox and has enough redundancy to remain operational through natural disasters.  However, should the apocalypse take down our data center, Host Duplex offers services to have your site working non-stop in our Denver datacenter.
Hopefully this clears up any confusion or questions regarding Redundancy.  If you have further questions, feel free to comment, or shoot us an email directly.
---